Rooftop rescue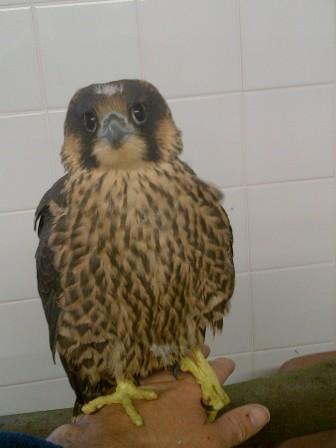 It is rare these days that we have the ability to attempt a hands-on rescue of a wild bird in distress; time constraints and person availability (even more-so than cost) tends to be prohibitive. We do however offer circumstance-specific guidance and advice which enables the finder to take direct action themselves and help those in trouble. However earlier tonight we received a phone call for which the timing was perfect, and a tragic situation averted.
Having just finished work for the day, I was on my way home (looking forward to tea!) when the phone rang with the first of the evenings calls, and I listened to a very concerned lady from the RSPB who had a dilemma; She had tried all day without success she informed me, to get a response from either the RSPCA or numerous bird rescue sanctuaries, as there was a juvenile peregrine falcon trapped behind some glass atop a high-rise building in Manchester City Centre.
Now I had only discussed the night before with another local wildlife sanctuary, a very similar situation where a young peregrine fledgling had crashlanded on a balcony belonging to The Co-Operative Society in Manchester, and I wondered if this was the same bird - it certainly seemed a coincidence. Sure enough, it transpired that this was the same bird, though it had dropped down from where it had originally landed, onto an outdoor seating area which was surrounded by glass and proving impossible for the young bird to fly out of.
Knowing that the Birding Group that were monitoring the nest and it's occupants were only observing the bird from afar, I was concerned that (as with any injured bird), there is a very small window of opportunity to mend a broken wing if this should be the case (the Peregrine had been on the balcony for a number of days and seemed unable to get off again), and though the parent birds had dropped in at some point with a pigeon carcass for it to eat - if for any reason it wasn't feeding, the situation could become dire quite quickly - especially with the recent hot weather.
Thus, after a quick tea I was Manchester-bound, armed with a secure carrier and a couple of thick towels, collecting my daughter Erica on the way. Forty minutes later we met Stephen, the manager on duty tonight, and he (thankfully) took us up in the lift to the floor where the bird was trapped. The staff had been locked out of this seating area in order to protect the bird and hopefully encourage it to leave with its parents - but time was going on, and nothing seemed to be happening. Stephen was very concerned that if a storm hit as was forecast this week, the bird may perish due to lack of protection from the weather.
The balcony was far larger than I had expected, and probably some 200-300m+ in length, containing many seating areas - obviously a popular area for the staff to sit out. However, whilst the 4-5m high glass around the edge of the building allowed a wonderful landscape view of the city, I could see how it was preventing this youngster from leaving the area, as the bird was simply bouncing off the glass.
I rarely wear gloves to catch/handle birds of prey; if done properly you can safely handle them securely without losing fingers, and I find you can quickly build up that bond of trust with a bird, if you are able to hold it securely and safely without risking either crushing it or letting it loose again through poor grip with thick leather gloves. My 40 years of experience clearly stood me in good stead, as I was able to pick the bird up quickly without fuss and give it a good check over;
It was in good health, plenty of 'meat' on it, and just a few dislodged feathers from hitting the glass but nothing that should prevent it from flying free again. I had already explained to Stephen that I would only remove the bird if it was injured or was in imminent danger, as its parents were atop the older CIS building opposite and clearly had been keeping an eye on it from afar. However, I could see that in this case, it was likely to either injure itself further if left on this balcony, or may simply give up if it felt that 'escape' was impossible. Hence, Stephen kindly granted us access to another balcony even higher up the building where there were no high glass sides for the bird to crash into.
Again, this higher balcony was a very long area around the outside of the building, but this one with much lower sides, and easier for the bird to take to the skies again.
Removing 'him' from the carrier, (which he had not been at all impressed with being placed in), he glared at me for quite some time. However, with some soothing he soon settled down and took more of an interest in his surroundings than of me. Unlike the last peregrine fledgling I released in the city centre from Manchester Town Hall clock balcony, there was no perimeter wall for him to fly from, so gently I lifted him onto my arm and waited...(and waited...) until he felt the time was right to take to the skies again.
He flew almost the length of the balcony before veering off to the right and off over the city centre - startling a passing gull who clearly hadn't expected this to appear! A couple of circuits of some of the city centre cranes, and he flew back towards us, passing very close by indeed (a fly-past??) before off over the city again. It was wonderful to see such a majestic bird back in the skies once more. He finally settled on an adjacent building not far from the nest he came from, and where another Peregrine had been watching his antics from afar (mum or dad perhaps?). Let us hope this time he manages to stay out of trouble. [NB 'he' could be a 'she' - but 'it' wasn't for letting me know this evening, and I wanted as little disruptive handling as possible.]
Our grateful thanks to Stephen and the Co-Operative for his assistance, to the RSPB for giving us the opportunity to assist, and to Erica for her company. A true evening of 'Co-operation!'
(NB the photo used for this article is from a previous Rochdale Town Hall Peregrine fledgling I rescued a couple of years ago, and helped nurse back to health; I judged it not safe to try and photograph this Manchester bird tonight as I did not want it spooked and risk an unsuccessful flight back to the wild.)
Nigel
Date : June 22, 2017
Manchester to Blackpool Sponsored Bike Ride 2017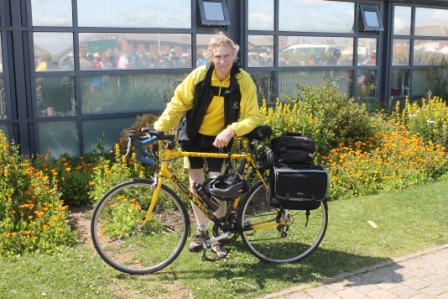 Firstly, my apologies for the lateness of this article and I hope that all our supporters are well and enjoying the spells of brilliant weather we've had lately. Almost as good as the Summer days of my childhood (well back in the 1880's we had some cracking Summer weather!), and I'm hoping for a nice warm day on Sunday the 9th of July, when I'm once again donning the lycra and breaking out the embrocation for the 60 miles from Manchester to Blackpool, on behalf of Three Owls.
This will be my 28th consecutive ride, and I long since ceased to wonder whether I'm dedicated or slightly nuts-you decide! The route is, as far as I can see, the same as last year and starts from the Imperial War Museum in Manchester. I will try to get a couple of photos with my friend, the yellow suited 'Voice of the Ride' before the off', as is our traditional practice and as always, he looks considerably better in yellow than I do! My ride number this year is 1925 which isn't my date of birth by the way...the numbers 2 and 5 are in the wrong order!
Last year's total was absolutely amazing, and no one was more amazed than I was when I found out about the late surge in donations, due to people catching the report on the website. To everyone who took the time and trouble to support me I can only say a very humble 'Thank You'. You have no idea how much it encourages me and how much good it helps the charity to do on your behalf. Nature is under attack on all sides these days, and to someone like myself who has always cared about the natural world, it is a mystery how people can feel no empathy with other living creatures and with the incredible natural beauty that surrounds us.
Please lend us your support again this year and I will do my best not to let you down on the day. Wish me luck!
John Thorpe
Date : June 18, 2017
Rescuing the rescuers - Mercy 'Flight'
It was a very busy and hectic day for us yesterday; we visited colleagues at four wildlife rescues and met up with a fifth. The purpose of our visits was a culmination of weeks of preparation to further aid wild bird rescue and rehabilitation; as so many sanctuaries are bursting at the seams with a huge number of rescued birds this year – the baby bird season started earlier than usual, but this does not mean an early finish, but most probably an extra brood – and more work.
Our aim yesterday was to relocate 7-9 birds to Knoxwood Wildlife Rescue Trusts' care to alleviate pressures elsewhere in the system, which gives the smaller sanctuaries improved ability to provide the one-to-one care needed at this time of year. We were also taking with us a vanload of donated foodstuffs which in turn help preserve the precious funds which are needed everso much on one-to-one wildlife care. However, the needs of the smaller sanctuaries far exceeded my previous planning and expectations, and the number of birds needing relocation grew alarmingly to 22 in number. With Knoxwoods own phone lines down due to a BT fault, I sent a text through but was unable otherwise to warn them of the trebling of expected casualties we would be arriving with that day.
Upon arrival therefore I gave them the option to refuse some of the birds of which I would try to place elsewhere, but with their professionalism and willingness to care, they would not hear of it. This was in spite of the staff working at near-exhaustion levels, as they (in keeping with so many other sanctuaries reporting-in), have been badly let down by scheduled volunteers this year – there just hasn't been the commitment given as in previous years, and I was shocked to see how tired everyone was looking. All this, and we are only half-way through the baby-bird season. Knoxwood do continue to care for several of the permanent residents previously housed on our site at Rochdale, which relocated there in 2010 along with one of our hospitals.
It was a busy 24 hours and I covered some 410 miles 'flying' around visiting sanctuaries in Slaithwaite, Meltham, Rochdale, Wigton, and Carlisle. Following on from this, late on Sunday evening I arranged for the Three Owls trustees to hold an emergency meeting, where an emergency grant was issued to Knoxwood to cover the cost of employing either two additional members of staff for 13 weeks to get them through the baby bird season, or one member of staff for 26 weeks. I remember all-too-well when in the 1990's; I had been working a 'usual' 20-hour day for several months due to the needs of Three Owls at the time, and this culminated in a blue-light ambulance dash to the local Coronary Care unit; this proved to be through overwork and not my heart – but having experience of this I would not want someone else to suffer as I did, if there was something we could do to help avoid it.
Therefore my grateful thanks extend to my two co-trustees; David and Stewart, who both immediately endorsed my request for emergency funding in these circumstances. This support from Three Owls has only been made possible due to continued support from YOU and your wonderful donations and legacies – please do keep them coming in, and we can continue to both directly and indirectly make a huge difference to the welfare of the wild birds around us.
Nigel
Date : June 12, 2017
Out into the Big Wide World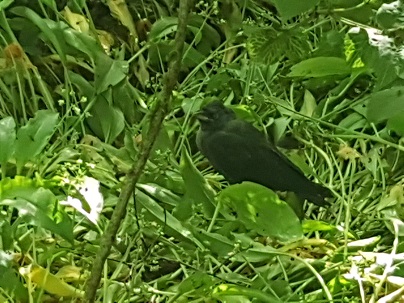 Well, it's that time of year again and we are busy each evening and weekend with calls/text/emails for assistance with what to do with fledgling birds found on the floor...
In reality, often NOTHING needs to be done, as a huge percentage of birds don't simply leave the nest and fly away - but will often have limited flight and spend between 24 hours to 5 days hopping around on the floor and low bushes until they are capable of sustained flight.
Alas, this does mean that they come into conflict with cats and dogs - and to a larger degree 'humans'! However, in the majority of cases, simply leave them alone, or if in direct danger pop them into the nearest bush or behind a tree.
Many of the callers report that they are 'abandoned and alone', however the parent birds will only return to feed them every 3-4 hours, and not the minute-by-minute feeds they received whilst in the nest. This gets them hungry and helps them onto the next stage of feeding for themselves. For birds such as robins/wrens/blackbirds/thrushes, the parents will split the brood up on leaving the nest, so if a predator found one, it would not find the whole brood. Again, these sometimes appear orphaned, but in reality the parents are nearby and simply waiting for you to go away. These four species in particular WILL spend 4-5 days on the floor before taking to the skies - PLEASE DO NOT be tempted to put them onto a shed/garage roof 'away from cats' - if they do not fall off and (often) break a leg or wing in doing so, there is no shelter there and they make easy pickings for the nest magpie/crow/sparrowhawk that passes by. Far better to pop it into/under a bush or conifer, keep your cat in, or if troubled by other cats; cut up some citrus fruit (oranges and lemons work fine) and scatter the pieces around the part of the garden to keep cats out of.
The jackdaw on todays photo was on our Home Reserve yesterday morning having come out of the nest with its siblings that day; four were flying well, one could flutter, and this was was a definate late starter. I had a quick check to ensure all was well, and popped it back on a log within the woodland - its parents were alarm calling in the treetops above. Late on that day I popped down to see how the family was fairing, and found the other jackdaw now flying well, but this one was only part way up a tree. However, clearly it had been fed, and so making a note of where in the reserve it was, I decided to leave alone and see how it was first thing in the morning; to my delight, that following day found it up in the treetops with the rest of the family - thankfully there is dense cover on the reserves at this time of year, and so the stormy weather forecast for this week should cause few problems.
Nigel
Date : June 4, 2017
More Orchids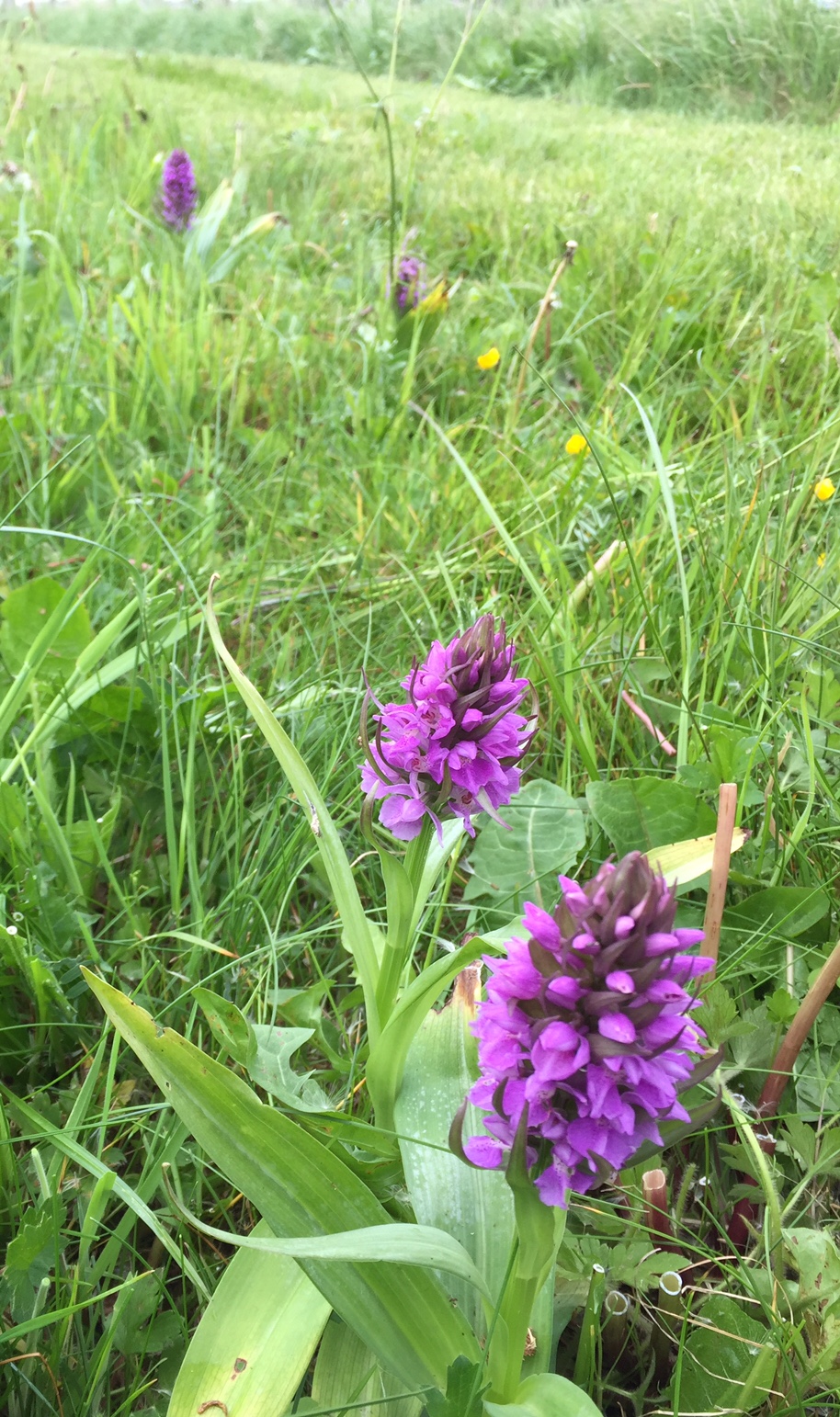 Some of you may remember last year on The Tarleton reserve we had just one Marsh Orchid -well this year there are eight!!!
it made me so happy to see them obviously doing well. i have had them identified as Southern Marsh Orchids. Apparently the trick is to mow after mid-july.
cheers
David
Date : June 3, 2017
A little bundle of joy!
It was early this morning - just after dawn broke - when I was having a walk around the Home Reserve, as I often do to check all is well. The birds and animals in there are well-used to seeing me, and I am sometimes lucky enough to see the nocturnal birds and animals going off to bed, just as the daytime ones 'come on shift'!
This morning I had extra purpose - I had heard the cries of a newly hatched heron chick the day before, and I was keen to see which nest it was in. Sure enough, the single chick was present, and was in the nest where we had the tragic fatality earlier in the year. Finger crossed the parents have better luck with this one, and I shall keep a distant interest to see if any sibling offspring are produced also.
The reserve is alive with the sounds of parent birds feeding their young at present, and the parent birds are so busy collecting food, they really are not phased at all to see me down there, often coming very close to check that I have no food with me!
Three of the ponds are full again following last weeks' rain, and with what is forecast for the Bank Holiday weekend, the other three should also fill up too.
Nigel
Date : May 25, 2017
Knitting Nanas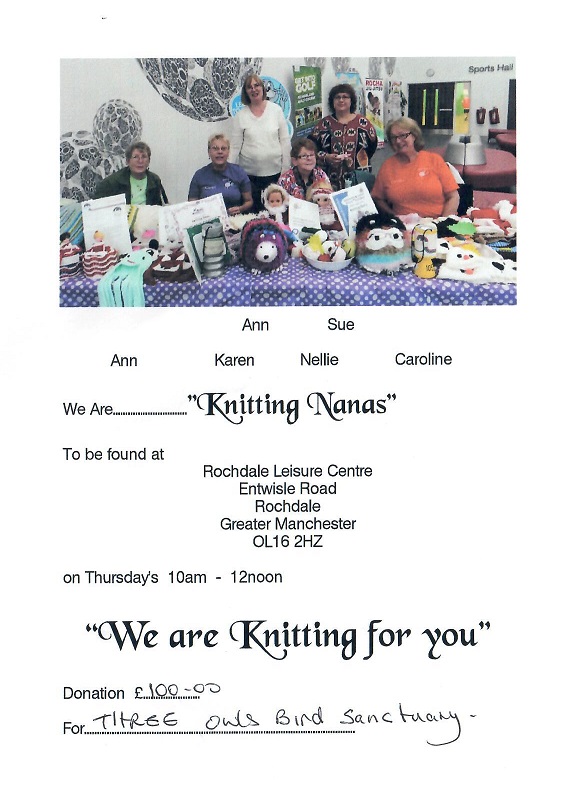 It was lovely to receive a call last night, and a visit this evening from the ladies known as "Knitting Nanas". These ladies produce many quality knitted items throughout the year and sell them off to raise funds for charity.
This year they have kindly selected Three Owls to be one of their nominated charities, and I was thrilled to be presented with a cheque for £100 which we can put to very good use indeed.
So, a huge Thank You to Ann, Sue, Ann, Karen, Nellie, and Caroline for their wonderful fundraising work, and we look forward to seeing them again some time in the future.
Nigel
Date : May 23, 2017
Helping us, helps others too - and we all help the wild birds around us.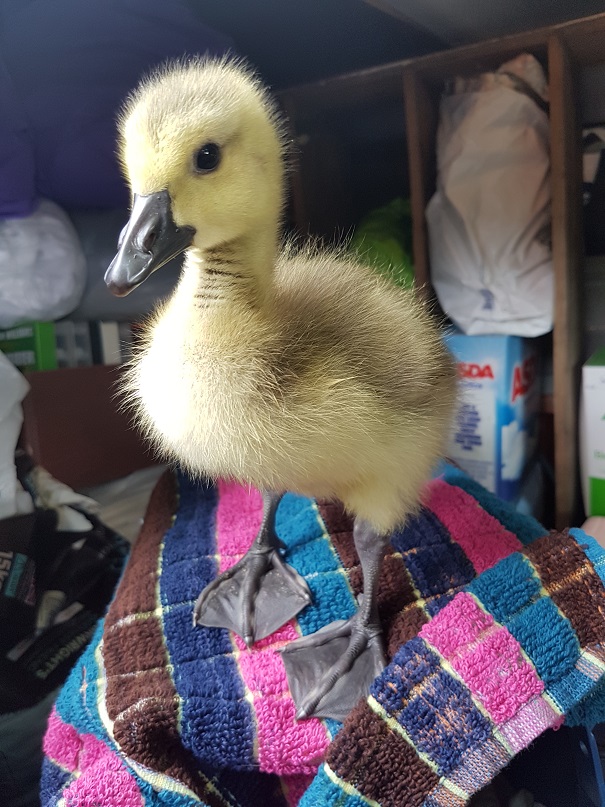 The work of Three Owls is quite varied, and people have often been amazed at the lengths the trustees go to in order to ensure that wild birds have the best possible chances of survival.
With the hospitals relocated from Rochdale to Carlisle (now some 7 1/2 years ago - how time flies), this gives us the opportunity to work more closely with other wildlife charities and using our 55+ years of knowledge we are often called on to both help re-organise and generally make more efficient a very busy organisation where the staff simply have their hands full with casualties and are unable to look at things from a distance to replan such as aviary layouts.
One such organisation we have worked closely with over the past few weeks has been Meltham Wildlife Rescue at Holmfirth in West Yorkshire. The organisation has been doing their charitable work for around 20 years now, and its founder Kathy has been regularly picking my brains for information as regards the best welfare and treatment of the casualties she has admitted therein. (This is not uncommon, and I find many such sanctuaries have a "little black book" of notes made from our telephone conversations to refer too) - I really must get that book of mine written some day soon.
Anyhow, on a recent visit where we were sorting out some of the birds being prepared for release, Kathy had stated how the sanctuary was desparate for a new perimeter fence, as the existing was quite literally on it's last legs - however, the casualties themselves were using up all the funds available. Quotes were obtained, and at a meeting of the Three Owls trustees, we were please to award a grant to cover the full cost of the new fence.
This will now enhance the security of the sanctuary and its residents, and help ensure that the ongoing work can focus directly on welfare rather than having to worry about any escapees or intruders.
Nigel
Date : May 21, 2017
Honey Bee breeding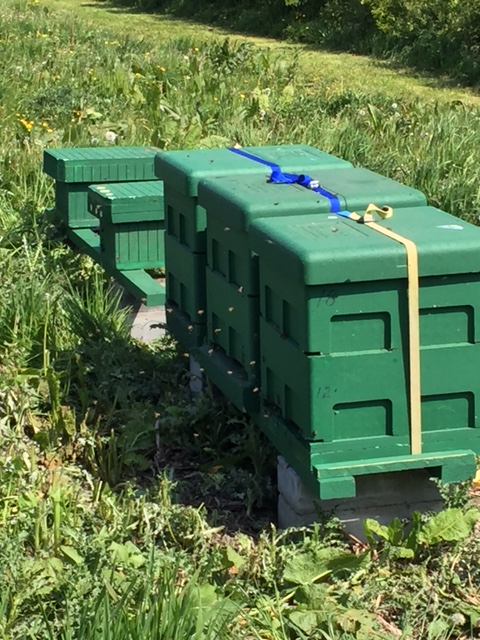 Breeding Hygienic Queen Bees
Bees are our most important pollinator, there are over 20,000 species of bees and they pollinated over a third of our crops and in doing so use the pollen as their protein and the nectar as their carbohydrate source, they are something we just can't afford to lose but this is happening. There are no wild bees left in England
There are four main things causing the losses, Pesticides, Lack of Flower Landscape, Monoculture , Disease and Parasites
The main cause for the loss of British Honey Bee colonies is a parasite called Varroa. This parasite is the equivalent of humans having a parasite living on us the size of our fist, and through it bees are getting various viruses the main one being Deformed Wing Virus..It is very hard to treat and eradicate an insect living on an insect without causing damage to the host, and Varroa is evolving a resistance to the drugs used, plus any chemicals used in treating bees can leave a residue in honey and wax.
Over the last eleven years Professor Ratneiks at the Laboratory of Apiculture and Social Insects (LASI) at Sussex University has developed a strain of honey bee with hygienic behaviour that is a natural form of disease resistance. Hygienic worker bees uncap sealed cells and remove the diseased contents, hygienic behaviour whilst not eliminating the Varroa parasite does reduce the numbers very significantly by over 60%
An apiary has been set up at the Three Owls Reserve in Banks with LASI Bees. The Three owls reserve couldn't be in a better position for Queen Breeding as being on the edge of the sea and the Ribble nature reserve this forms a 180 degree barrier against unwanted Drone bees ( the males), giving this reserve an excellent chance of pure mating.
No chemicals will be used on these bees to kill the Varroa mites, and it is hoped by breeding new queens from the best surviving stocks that bees once again will be able to care for their own colony health.
Colin Bridgwood May 2017
Date : May 15, 2017
Co-operation, transportation, and rehabilitation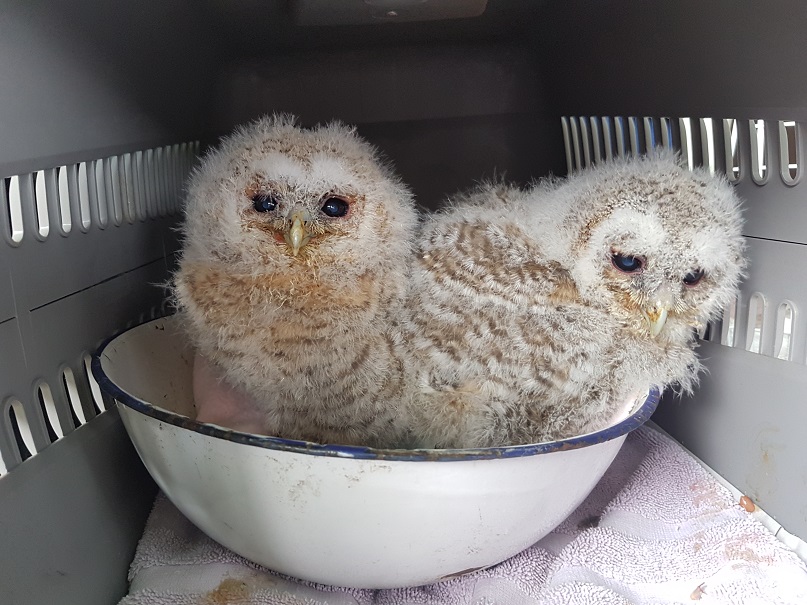 On our latest trip up to the reserves at Wigton, we were accompanied by some of our feathered friends from other sanctuaries, who needed a helping hand with returning these birds to the wild;
As you can see from this articles photo, we took a pair of sibling tawny owlets, which had tumbled from their nest onto a dog-walking pathway, and with the nest over 50 feet high in the tree, it was not possible to return them to the nest. This was one of the rare occasions when it WAS correct to remove the owlets to sanctuary care - often baby tawny owlets DO leave the nest early, and are sometimes found at the base of a tree - but these were too young to have been out of the nest so soon, and would not have been able to climb back into the tree, and hence needed extra help.
In addition we had a young gosling which had been found on it's own wandering around, also a pair of pigeons which had been long-term rehabilitated, and needed a staged return to the wild.
All these birds were transferred to the care of Knoxwood Wildlife Rescue, who will bring them on and ensure they are returned to the wild when ready.
Whilst at the sanctuary, George proudly took us on a tour of the latest work done to the Watermeadow Reserve - there is now a true watermeadow (complete with water!) in part of the reserve, and a huge bonus was to see a small flock of sandmartins feeding, drinking and collecting mud from the edges of the pond , from which to build their nests. We will watch for further developments with great interest.
A huge Thank You again to Knoxwood for helping out once more with these final stages of rehabilitation.
Nigel
Date : May 14, 2017
Wonderful donations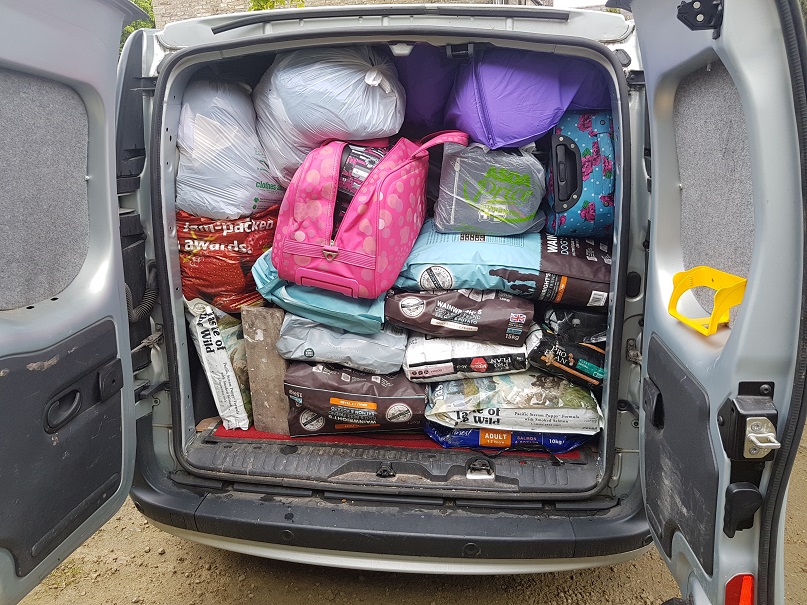 A huge thank you to a number of kind supporters who have been donating both fundraising gifts and sacks of food lately - all are very much appreciated. When we have a van-full we make the journey up to our most northerly reserves in Wigton near Carlisle, where many of our resident birds still reside under the excellent care of staff at Knoxwood Wildlife Rescue, and who have also amalgamated our hospitals into their own facilities meaning the excellent work of both sanctuaries is both enhanced and continued.
Last year Knoxwood ran a very successful fundraising campaign to purchase a new incubator - which has hardly ever been out of use since. they are now running another campaign to get two more so that even more lives can be saved. If you can help them, please get in touch directly Click Here
Further donations for use at our Three Owls reserves are always welcomed, and can be dropped off at our Home Reserve at Rochdale - please let us know when you are coming to ensure someone is around to accept it.
Many thanks for your continued support.
Nigel
Date : April 30, 2017
Palm Sunday release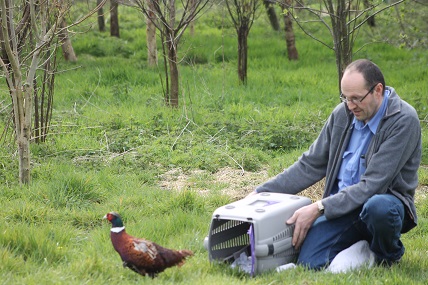 It was one evening last week when I received the latest call for assistance from Meltham Wildlife Rescue in Yorkshire; although I speak with Kathy there on a regular basis giving general advice, this time she needed more specific help...in regard to a casualty they had just admitted.
As you can see from the photo; this poor pheasant has had his wing and tail feathers severely clipped back leaving him flightless, yet still (as a wild bird) not wanting to remain in captivity. Sadly, I have seen this severe mutilation all too often before, and am told that the birds are sometimes 'sacrificed' at a family celebration. Thankfully, this time - especially being a 'wild bird', he had been discovered, rescued, and would not suffer this fate...
I tried (without success) to get him a place into one of the rescue centres nearer to Meltham - with the feathers so badly cut, it will be 4-5 months before he could fly well again.
This left a few options; if he was bodily feathered and could fly, he would be safe to live at the Home Reserve at Rochdale. If poorly feathered and no flight at all then he woud have been best up at Knoxwood and on our Watermeadow Reserve where Knoxwood staff would be able to keep an eye on him. However, as he had good body coverage but no flight then our Three Owls Wood at Tarleton was just the place for him - we already have a covey of resident pheasants there, so we hope he will soon settle in and with the excellent diet the Wood provides, will soon be regrowing those feathers and whizzing around the skies again.
My thanks to John Thorpe and Jennifer Frew for their company on the journey; and credit to John for his well-placed photography on the day. Whilst in the area, we also visited the Meadow Reserve, and Old Beech Wood and were able to enjoy the wonderful facilities that these Three Owls Reserves now offer to the wildlife around us.
Nigel
Date : April 9, 2017
Mother Nature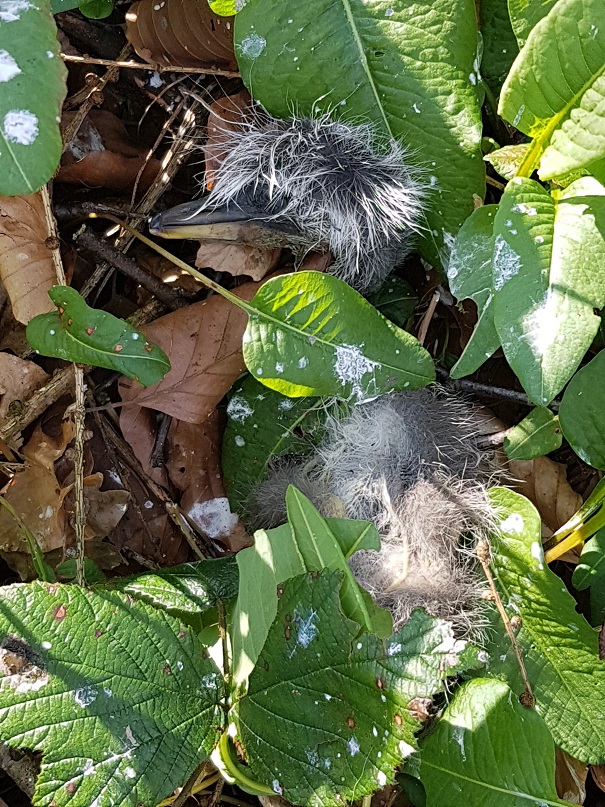 Often she gives us wonderful displays, and some exquisite wildlife to marvel at, but sometimes life can have a cruel twist - though of course we only know one side of the story.
Upon my recent visit to the Home Reserve at Rochdale I was pleased to hear two of the heron nests had a clear "amplification of voices" coming from within. A quick count up of the discarded eggshells tells me that nest 1 now has four chicks in it, and nest 2 has three chicks. Sadly when going over to the third nest site, there was a deathly silence and I was dismayed to find a dead 3-day old chick on the floor. Both parents were still at the nest site, and there is plenty of time for another clutch this year, but it is looking less likely that these are a matched pair, or possibly both are young and not fully aware of what they should be doing to rear their own chicks. Last year these two birds also made a full nest, but again failed to raise a single chick. Time will tell.
On a happier note, the woodland floor is now a sea of wild garlic; which should shortly be coming into wonderful white bloom. The tits, wagtails, finches, robins, and sparrows are all in abundance, each collecting up their own nesting materials. Only a few backbirds are visible, as most will still be laying or incubating their eggs just now.
Nigel
Date : April 8, 2017
A football team perhaps...?
Well, you'd think we were preparing for a five-a-side team at the Home Reserve, as I was surprised and thrilled to find baby heron number 5 hatched out this morning from our third clutch of eggs.
Clearly Storm Doris has had no impact upon these very successful nesting adult birds, and the parents are taking it in turns to nurture the chicks, or go off hunting for food.
We were pleased to welcome Jennifer to the Home Reserve today on a visit from her own sanctuary, and she has taken two of the discarded heron egg shells to help educate others in regard to the wonderful work we are able to do - all thanks to your continued support.
Nigel
Date : April 2, 2017
April Babies - but no Giraffe!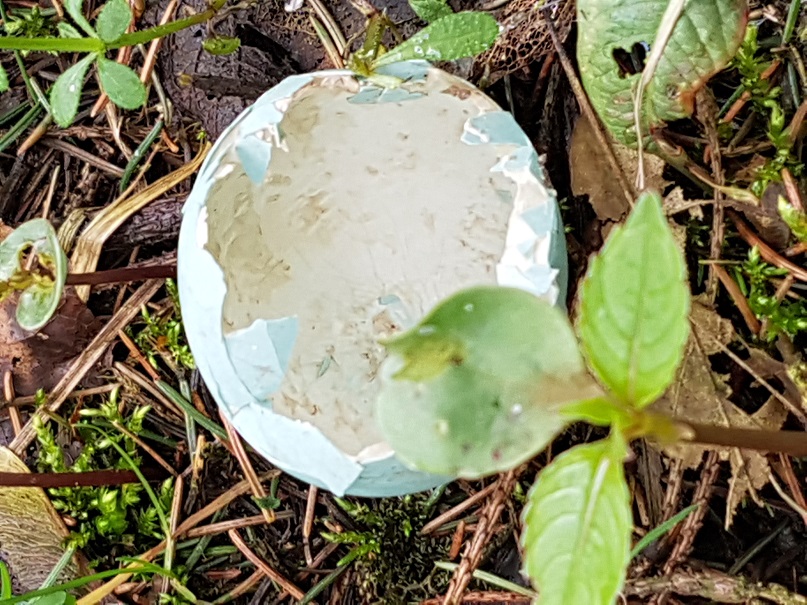 Well, we have not one, or two, nor three but FOUR new additions to the Home Reserve.
These have all hatched out only this afternoon, and as we had a walk round the reserve this afternoon, there were raucous cries out from the treetops from those four baby herons (two each in two nests) demanding food from their parents.
The photo shows one of the newly discarded egg shells down on the forest floor.
These babies are early - we usually expect them on Easter Sunday!
The Giraffe quote is of course from Harpursville's Animal Adventure Park in New York, where they have an expectant mother Giraffe named "April".
Nigel
Date : April 1, 2017
Early moths on Meadow Reserve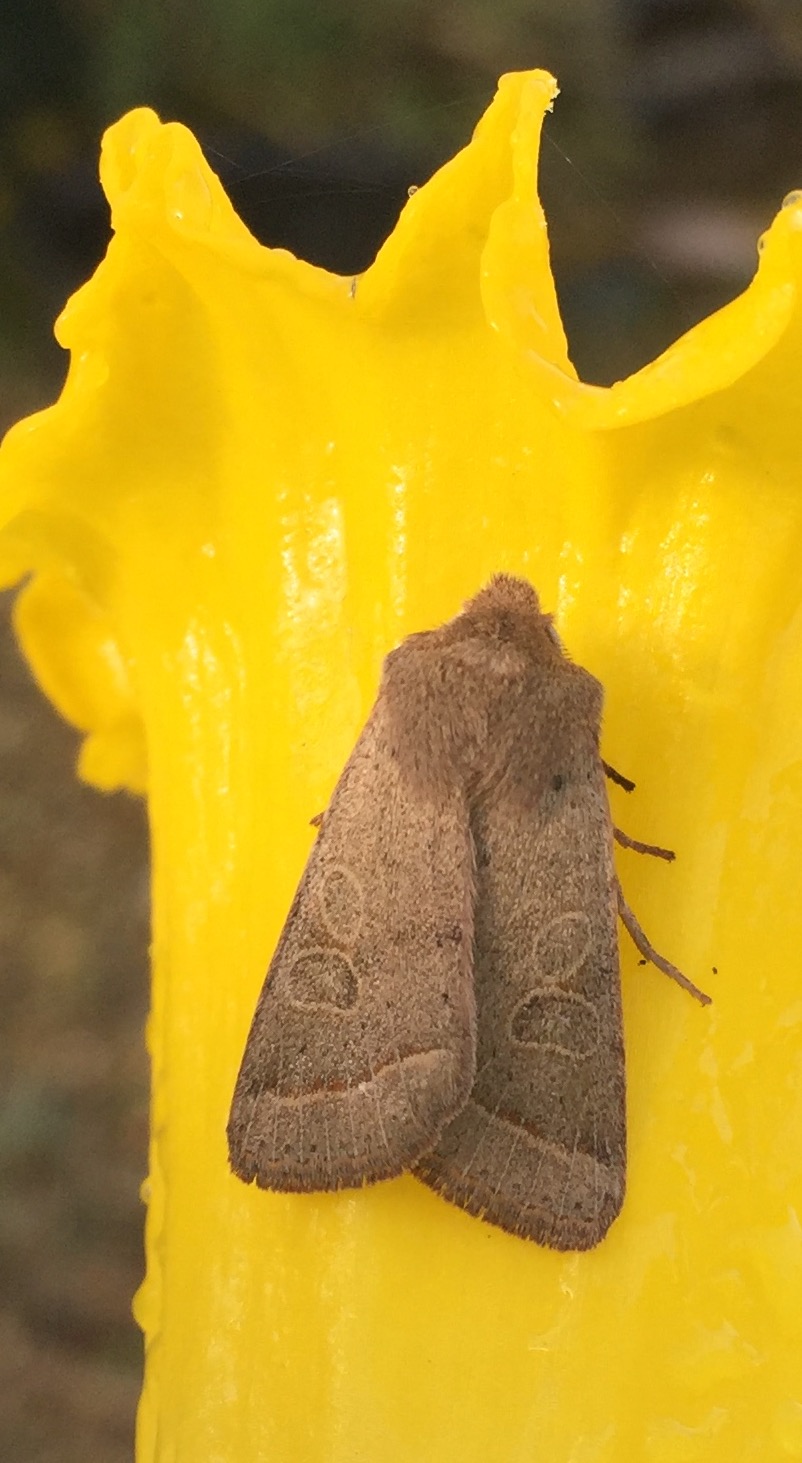 One of the very first moths of the year- a Common Quaker on a daffodil, after a mild damp night.
More signs of spring; frogspawn in our new Three Owls Wood pond and paired mallards everywhere -oh and best of all the sky larks and goldfinches are singing like crazy!!
Cheers David
Date : March 12, 2017
Memories, thoughts, and recollections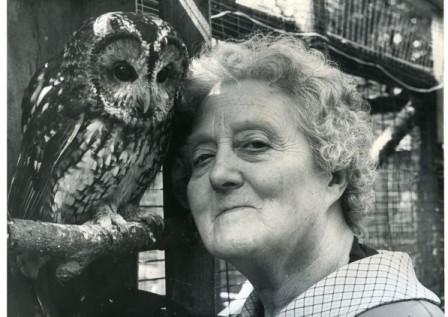 It is now 22 years to the day since the Three Owls founder Mrs Eileen Watkinson MBE passed away following a long illness. Right to the very end she battled away to ensure the survival of Three Owls and all the birds in its care.
The photo with this article shows Mrs Watkinson with one of our resident Tawny Owls; Guzzler - so named due to her appetite - who herself is buried on the Home Reserve alongside her 'mum'.
Taking a walk through the Home Reserve at Rochdale this morning, brought back many happy memories from years gone by; having been helping the charity since Easter 1978 I have seen many changes over the years, from the struggling charity existing on a literal shoe-string, to the hugely successful wild bird hospital it became by the Millenium, treating 1500-2000 birds annually and returning hundreds back to the wild every month. Ten years on from that, the sanctuary diversified and spread its wings further and was able to set up a network of nature reserves throughout the northwest of England, whilst continuing to support the day-to-day care of wild birds in distress.
Although Mrs Watkinson is no longer with us in person, she continues to be an inspiration in all that we do; and we often refer back to her tried and trusted methods when answering calls for help which now come in from all around the world. I count myself lucky and priviledged to have worked with her on a one-to-one basis from the day I started to when she passed away, and through all that knowledge shared over the years, we have been able to keep the Sanctuary running these 22 years further on to date and looking well into the future.
Our thoughts are with her always, and especially today.
Nigel
Date : March 5, 2017
Storm Doris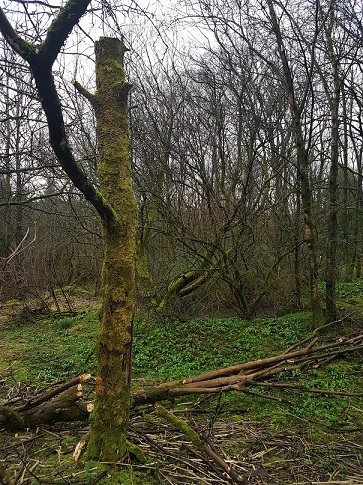 Well, the much-publicised Storm Doris has swept across the country. Sadly, with it being a winter storm, we have suffered a fair bit of tree damage as the trees are inflexible at this time of year. This means that we will have to fell a number of badly-damaged mature trees where the actual trunks have been snapped, as these will quickly die and become unstable.
However, these downed trees will not be wasted and will go to provide nesting sites/shelters, and the brash can be stacked to provide 'bug stations'. We will also look to 'fill-in' any gaps in the reserve with new trees as necessary.
Thankfully, the herons nesting trees all survived intact, as they are all sat on eggs at present, and both the pairs have been seen safe and well now the storm has passed.
We hope everyone else reading this has come through the storm without loss or damage.
Thank you to everyone who has been in touch to check we are all ok.
Nigel
Date : February 23, 2017
Voles under attack!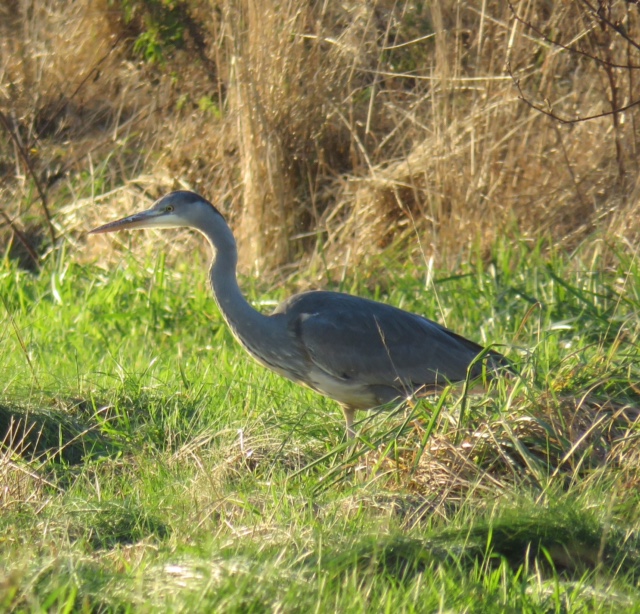 I have chatted before about the poor Field Voles on The Meadow Reserve. Attacked by the night shift of Barn Owls and cats, and then by the day shift of kestrels and crows. Now we have a regular addition to the day-shift, Grey Herons sneaking up upon them as shown here.
To my suprise I have seen a pair of herons hunting in the middle of the night, on the reserve -caught in my car headlights!
Date : February 13, 2017
Homes for all!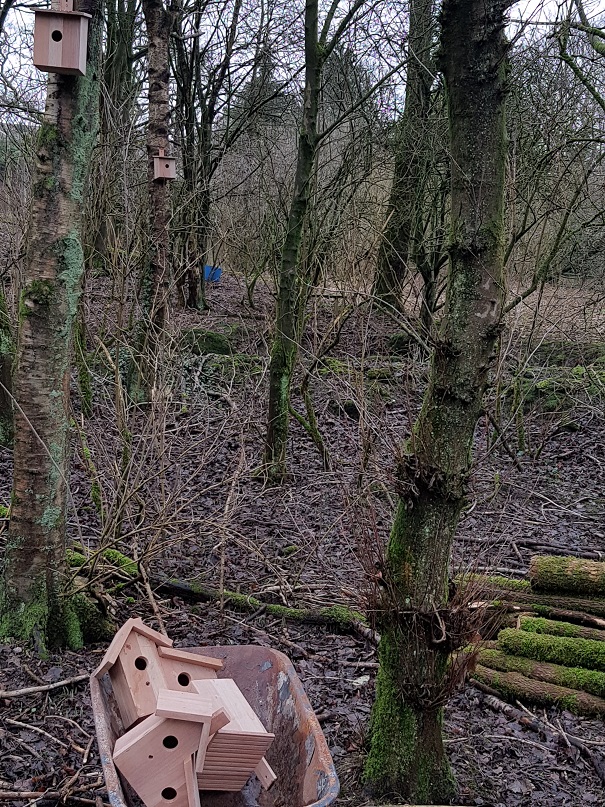 We were surprised to hear the rat-attat-tat drumming of the woodpecker this morning on the Home Reserve, clearly feeling that Spring was just around the corner and it was time he got on with building his nest for this year.
Subsequently I was very aware of just how many of the smaller birds had returned from the valley, and so we spent the afternoon putting up the remaining new small bird boxes from last year, so they can have some clean dry homes for this year. We also replaced the rotten roof from the nesting box outside the office which has featured on here a few times.
The herons are sitting tight on their nests, no doubt busy laying their eggs ready for this years' families; let us hope that the remainder of the winter is not too severe for them - rather them than me sitting up there exposed to all.
Nigel
Date : January 29, 2017
A quick word from John Thorpe....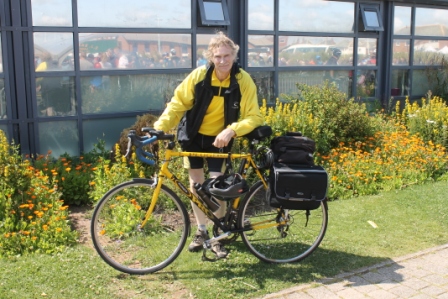 This is by way of a huge 'Thank You' to everyone who donated to the Three Owls Blackpool Bike Ride total of £957.00. Quite honesty I am blown away by the total and the level of interest in my humble cycling efforts, which only came to light today when I received a certificate of achievement from my old friend Nigel at Three Owls .When last I heard we had, I think, either equalled or just exceeded last year's total, and I was proud enough of having achieved that.
Unknown to me, there has been a huge surge in people looking at the report on the Three Owls website, and subsequently feeling moved to make donations. Whenever I write the report of the Bike Ride to Blackpool from Manchester, I hope that it interests and amuses people, and of course if it prompts a donation we're very grateful, but that isn't the prime motivation. Nigel tells me that people have left messages of support and admiration for the number of years I've been taking part in the ride, and while I'm hugely grateful, I'm also very surprised that people find it interesting. We all like to feel useful or to have some purpose beyond our own day to day lives, and the ride is my way of giving something back for all that I learned during my years of volunteering at Three Owls, both with Nigel and with Mrs.Watkinson. In the past couple of years I've questioned my usefulness a great deal, and while I still don't have an over inflated opinion of this, I do thank you all for taking the time and trouble to support my efforts on behalf of Three Owls. I'm hoping that my friend from Blackpool, Jon, is going to join me on the ride in 2017, since I've been trying to persuade him it would be good for his mental and spiritual health for about twenty years! Being of sound mind he's so far resisted the invitation on the grounds that he's so far avoided a heart attack and total physical collapse and he'd like to keep it that way! He assures me he's been in serious training by watching films of the ride on You Tube and walking briskly to the shops, so we'll see later in the year.
Thank you all once again and I hope that I can complete the ride again this year and regail you all with another tale of embrocation, perspiration and rehydration on the road to Blackpool!
John Thorpe
Date : January 18, 2017
Babes in the Woodland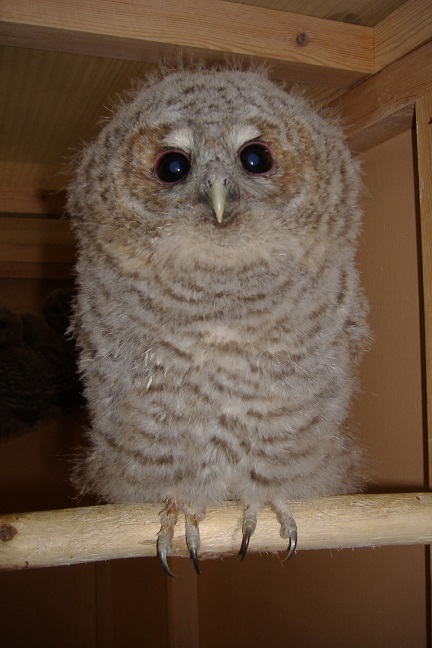 I received my first baby tawny owlet request for assistance today; obviously on it's first flight from the nest, this owlet had ended up on a couples windowsill, and upon their approach had dropped to the floor and hidden in a corner.
Usually they are fine if left, and will climb back into a tree the following evening (using beak and very strong talons) with the encouragement of the parent birds, where they will be rewarded with a meal - and probably a telling off for straying!
Also this weekend we have heard the mature herons affirming their bonds for this years' nesting season. This means I have a little over a week to get the maintenance completed at the bottom of the Home Reserve - always a rush on this reserve, as the nesting season stretches for most of the year due to the multitude and variety of birds which call it 'home'.
Nigel
Date : January 15, 2017
The trees are grown up now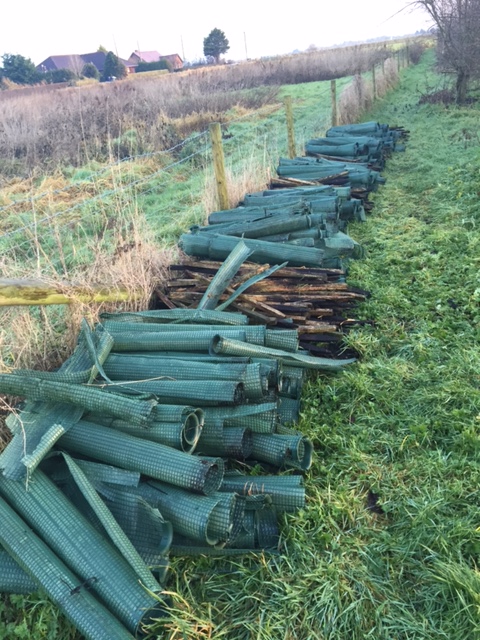 At last its time to remove the stakes and tree guards at Three Owls Wood.
The baby trees were only 18 inches high when we planted 3000 just 4 years ago. With good soil many are now over 15 feet tall The biggest are the white willows -easily 20 feet tall. so its a significant point in the life of the wood that we can take away all the tree guards.
Another development is the arrival of resident jays -the mark of a true wood!
Happy new year
David
Date : January 7, 2017
It's too soon!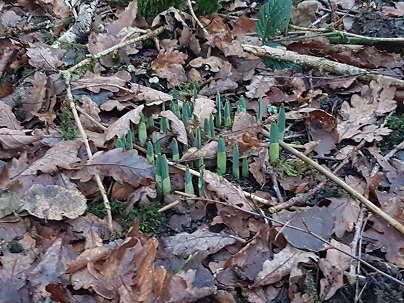 Still in bed - is where they should be at this time of year! Waaay too early yet for these Daffodils to be even thinking of sprouting forth. Yet, with the very mild (so far) winter, we cannot be surprised that mother nature is all topsy-turvy.
Recent discussions with other sanctuaries around the UK reveal that hedgehogs in particular are failing to hibernate, and I too have seen evidence that the badgers and squirrels are also still very active when really they should all be tucked up for the winter.
I recall back to the late 1970's through until the early 1990's when my work was very much hands-on in the bird hospitals; we could expect the baby Tawny Owls to be hatching any time from Christmas Day onwards. Now you are looking at March to May for those very same nestlings. It is also a problem for migratory birds who may (as last year) stop later than usual, or even have a 3rd brood and chance there being enough flies to rear them. What they don't always take into account is whether there is enough food to be eaten DURING their migration when done out of sync; a single Swallow for example would need to eat around 800-1,000 flies per day to survive. If the weather is bad or there is a cold snap it can mean the difference between life and death. With these birds migrating in flocks, the out-of-season risks can be very high.
Anyway, on a brighter note; a very Happy New Year to you all.
Nigel
Date : January 6, 2017
Preparing the ground at the Home Reserve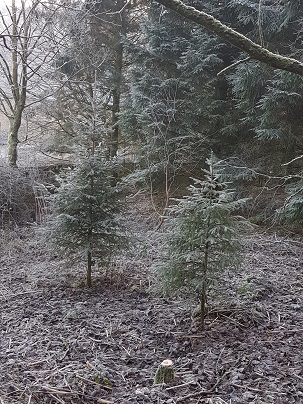 Today we were over at the Home Reserve once more undertaking some ground clearance ready for some new spruce trees being planted. We currently have an appeal out for surplus rooted ex-Christmas trees, but failing this we will have to purchase some in order to maintain the coverage in this part of the reserve.
Part of todays work saw us removing some poor condition self-seeded birch trees; nothing is wasted as the logs were piled up to provide a feeding station as they rot down, and the twigs and smaller branches stacked as a brash pile for winter bird/animal cover.
The photo foreground shows what were 8-12" baby trees just three years ago - now fine and healthy young trees. These will mature into the huge trees you see in the background - which provide essential cover and nesting sites for our resident birds.
Nigel
Date : December 29, 2016
Storm Preparations!

With two rapidly approaching winter storms, we have brought forward some of our maintenance work on the Home Reserve at Rochdale.
We have a number of standing dead/damaged trees, which need dropping and stacking, to avoid the risk of them falling on any people/wildlife on the reserve. This photo shows an elderly tree that was already part-dead and in danger of falling in a storm, which has been logged and brash-stacked.
The logs are already mossy and will be much appreciated as nest-lining material by the smaller birds next spring. As these logs rot down, they will provide an abundance of grubs and invertebrates which are a vital foodsource for our resident feathered friends. The woodpeckers in particular love these feeding stations.
The brash (thin branches and twigs) provide wonderful cover for the robins and wrens, goldcrest and even the occasional firecrest. These piles are also used by hedgehogs, mice, and frogs for their winter hibernations. I was accompanied by one of our resident robins as I worked; always the opportunist for a chance of an easy meal - and who can blame them!
Over the next few weeks we will complete the maintenance on this reserve for this year - it always has to be a quick turnaround on this particular reserve, as it is used by nesting birds for 9 1/2 months of the year.
Nigel
Date : December 18, 2016
Christmas Trees
If you are wondering what Christmas tree to get this year; why not get a real one in a pot with roots? This way you can plant it out and both you and the birds can enjoy it all year round.
Equally, at the Home Reserve in Rochdale we are in need of up to 50 rooted Spruce trees to add to the part of the reserve where this variety grows. These trees are very important to this part of the reserve, and are where the heronry is located in the tree-tops, and lower down the Wood Pigeons and Jays in particular (and sometimes the odd Tawny Owl or two), rest-up or sleep in perfect safety. We could arrange local collection of trees any weekend after Christmas.
So, if you (or a seller you know) have any left after Christmas to donate, please get in touch.
Many thanks
Nigel
Date : December 10, 2016
New edition of Three Owls Newsletter is now online!
The latest edition of Three Owls Newsletter is now available to view on the website. This edition covers the last two years of news in the life of the Sanctuary, and is (if I may say so), a very good read.
Just click on the 'Newsletter' link here or at the bottom of any website page.
Happy reading!
Nigel
Date : December 4, 2016
New website launched
After over a year of background repairs following the September 2015 hacking attack, we resigned ourselves to have the site completely re-written to enable us to move forward again.
The attack destroyed the news section and the scrolling pictures, and although our webmaster worked hard, the coding was so messed up that we were forced to start again from scratch.
Thankfully, from what you see 'up-front', things do look fairly familiar; it has been a very popular layout, and we have tried to reinstate as many of the original features as possible to the new site. There is also an extra tab now for each individual reserve, which we will fill in with news as we go along.
Please bear with us over the next couple of weeks whilst we tweak the slider pictures - as you can imagine we have thousands of photos to sort through to get things running smoothly and show the sanctuary's life-saving work off to its best potential.
Nigel
Date : December 1, 2016
Wonderful Donations!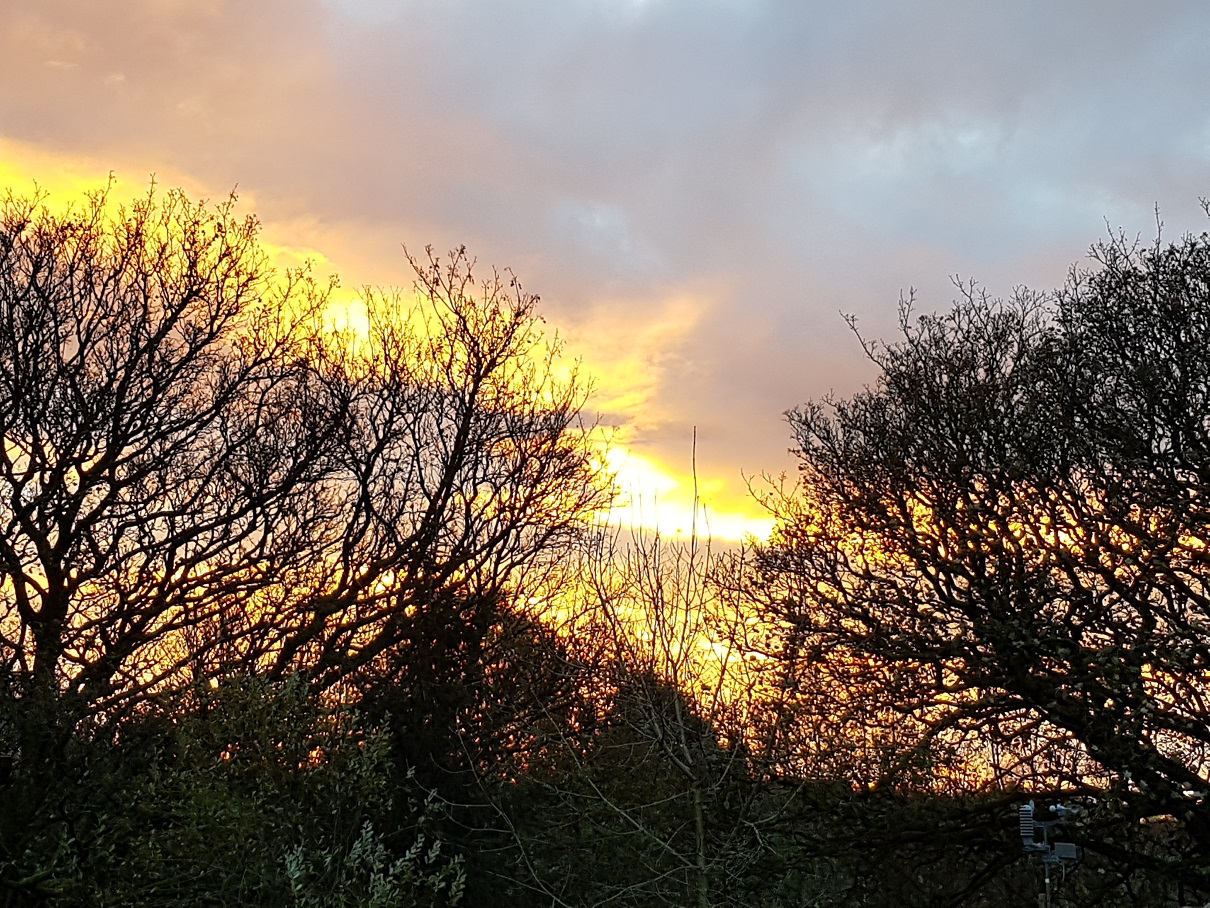 A huge Thank You to two of our lovely supporters for their recent gifts; Sheila from Heywood donated 8kg of sunflower seeds (that's a huge sack!), and Gill from Royton donated two big bags of peanuts.

Often I am asked how best to help Three Owls - well this is one way to help both the birds on our reserves, AND those in your own gardens/parks get through the now-upon-us winter weather.

If you look on the RSPB website there is a wonderful recipe for Bird Cake - the birds will delight you with their antics whilst getting that all-important nourishment to keep them alive day-by-day.

The photo for this report is of the winter dawn breaking over the Home Reserve.
Date : November 7, 2016
Incubator Appeal
You will all recall how Knoxwood Wildlife Rescue took in a lot of our resident birds when we had to relocate our intensive care hospital and many of our aviaries from our Rochdale site to Carlisle six years ago.

Now, they take in a huge number of birds and wildlife from a wide area, and have asked if we are able to help publicise their appeal - which of course we are glad to help.
Knoxwood also manage our two reserves at Wigton for us; The Three Owls Field Reserve, and the Three Owls Watermeadow Reserve.

Emma informs me they are desperate for a couple of new incubators, and they have set up a fundraising appeal;
Wildlife Incubator Appeal

If you could possibly assist, then we would all be very grateful.

Nigel
Date : October 29, 2016
Back up and running!
Well, after the huge electrical storm this week, which knocked out ALL our communications for a time, we are pleased to let you know we are back 'open for business' as they say!

The storm was pretty severe, even by our standards, culminating in a lightning strike to the metal telephone pole which feeds the Sanctuary office. (which went off with one heck of a bang!)
This unfortunately fried everything that the broadband used, amazingly the landline survived the experience.

Top marks to Plusnet, who had everything replaced within 24 hours of me informing them.

There are ongoing issues however with the Helpline, and despite O2 working on the transmitter for some time now, the signal is very hit and miss whilst I'm in and around the Home Reserve. They assure me they are continuing to work on it. O2 have at least provided an App to run on the phone, which uses the WiFi signal from the office to enable calls and text whilst we have no phone signal - that is a big help.

Often people ask me; "how do the wild birds survive such a big storm".
Well, simply put - they are much better prepared than us humans, and well before the storm reaches us, they will be safely sheltered away, often in a conifer tree where there is a protective column of warm air up the centre. As such, if you look around at the start of a storm, there will be a complete absence of birds, yet within a few minutes of it passing, the place will be alive with them again.

Nigel

Date : September 17, 2016
Open Day, donations, and bike ride update...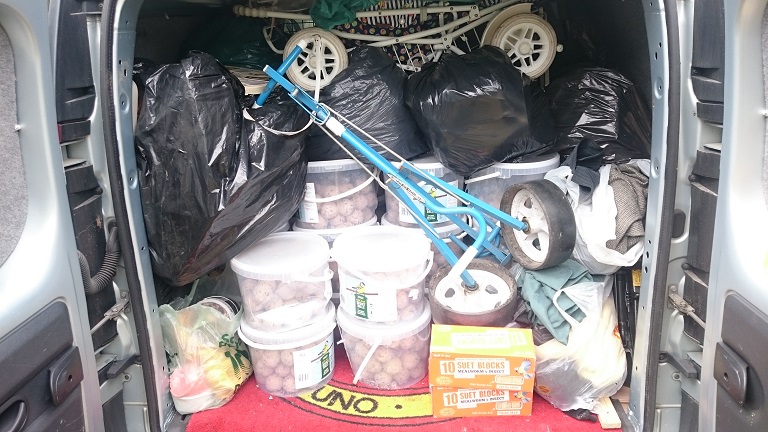 This Sunday see's Knoxwoods annual Open Day from 10am-3pm, where you can visit their Sanctuary and see all the good work they do and spend some pennies (and pounds!) to help support their work with the birds and animals. They do, of course continue to look after many of the birds from our Rochdale site, from when in 2010 we had to relocate a large number of birds and aviaries to their care and so fitted them out with a state-of-the-art hospital from our facilities.
Whilst visiting on Sunday you will be able to see our new Watermeadow Reserve, and Field Reserves, which Knoxwood manage for us and have been doing sterling work with re-instating the historic sandbank and watermeadow features, also lots and lots of planting!

The photo from this article is some of the donations we have been given to help fund the reserves, and look after the birds; as well as the usual bags of clothes and bric-a-brac, we send our very grateful thanks to Hannah Green of Pet Brands in Birstall, whose company recently donated a pallet of bird fat balls - which we are distributing around each of our reserves to help support those birds using them this winter.

We will next be going up to these reserves in Carlisle in 2-3 months time, so keep the donations coming in! Meanwhile we hope to see some of you at the Open Day on Sunday.

Finally (for this report), I am pleased to give an update on Johns' Bike Ride total so far; currently standing at £445 giving you time to get those sponsorship donations and competition entries in.

It will have been a busy weekend for me, as by Sunday night I will have been to every one of Three Owls Reserves in 3 days!

Many thanks for your continued support.

Nigel
Date : August 13, 2016
Sponsored Bike Ride Report 2016
THE 2016 MANCHESTER TO BLACKPOOL BIKE RIDE.
BY JOHN THORPE.
Well, it's that time again, dear supporters, when, reeking of embrocation and walking like John Wayne after a fortnight on the Chisholm Trail, I put quill to paper to, hopefully entertain and regale you with tales of bravery and daring do..........who am I kidding, I'll just tell you about the ride!
This was, as you may be aware, my 27th consecutive Manchester to Blackpool ride, and if you added up all the miles, I would be a long way away, which may be a very good thing some would say! I have to confess that I did very little actual training for the ride, and as I have said many times, this is not the ideal way to prepare for sixty miles of strenuous exercise, but I seem to survive on sheer grit and determination, with a large helping of sheer stupidity!
Having serviced my bike, given it a new back tyre, inner tubes, tube protectors and new gel seat cover, I turned my attention to myself. A good look in the full length mirror convinced me that I was beyond help, mechanical or otherwise, I gave it up as a bad job and had a cuppa. Someone suggested that I watch the Tour de France to mentally prepare myself, but since this would have resulted in a terrible feeling of inferiority, I gave it a miss. This year's event was due to start from the Manchester United ground at Old Trafford, as it has for the past few years, and was advertised in the magazine which Bike Events send out as such. However when I booked my place online (get him sounding as if he knows what he's doing!) I found that the start had been changed to the Imperial War Museum North at Salford Quays. This presented something of a problem as I had never ridden to Salford Quays on the bike, but remembered from trips on the Metrolink tram that the area was a bit of a maze of roads, and things were not easy to find unless one knew the area. Having looked up the route on my AtoZ, I hoped I could get there on time for the 6.30 am start, and retired on the Saturday night at an unheard of 9.00pm, much to the disgust of my two rabbits; Tyrion and Freya, who couldn't understand why Dad was putting them to bed at this ridiculous hour when they wanted to carry on messing up the front room!
I set the alarm for 4.00 am and fell asleep dreaming of riding round and round Salford looking for the road to the Quays the next morning was a hectic affair, and I was glad I'd got everything ready the night before, from my sandwiches etc, to the porridge ready in the bowl and all my things packed in the saddlebag. The rabbits were fed in record time, and so was I, and then after last minute checks to see I had everything I could possibly need on the road, I set off at around 4.45. The roads were empty and the light was good, but the sky was a bit threatening and grey, and I was sure we'd all get wet at some point along the way.
I reached Manchester centre in good time and turned off towards the Quays, not knowing the road or exactly how long it would take. With the help of a passer-by, I found the road and started looking for the Museum, which is opposite The Lowry Theatre. Eventually, after ending up on the opposite side of the water to where I wanted to be, I crossed a bridge and found the area where Bike Events were set up. Rick, the Voice of the Ride, the man in the bright yellow suit, did me the honour of a pre-ride photo for the website, and in no time we were away, heading out on the annual adventure.
The weather was still being kind, and as I always do, I decided to just keep out of trouble and set myself an easy pace just to warm up. A rider pulled up alongside and got into conversation ,as we passed through the rural delights of Salford (yes, I was kidding). He said he'd spotted me and thought I looked like I'd done the ride before and was a steady rider. We discussed the relative merits of going nice and easy or developing a groin strain in the first twenty minutes, and decided the former was preferable to the latter.
He even said he preferred to take advice from a Master, such as myself, rather than make silly mistakes! I assured him I was no Master, and images of the TV series Kung Fu, flashed in my mind, with me saying to David Carradine; 'When you can snatch the tyre lever from my hand Grasshopper, you may leave the monastery'
He left me behind a little while later, and I trust he had a good ride to Blackpool, albeit without The Master! Thankfully the bike was holding up well, and so were my knees, as we made steady progress through Boothstown and Leigh, and the first funny moment came I think somewhere near Atherton. We were on a hill, passing a school building where several people had gathered to cheer on the superbly fit athletes (they were somewhere in front of me at the time!), and two ladies and a small child were clapping and extolling us to greater heights of physical prowess. Such things as 'Go on you can do it' and 'You're doing well' were reaching our ears, and a man to my right, riding with a friend and making heavy weather of the hill turned in the direction of the cheerers and said I don't know about that, my a!$e is red raw!' Possibly too much information since the lady was neither a proctologist nor did she presumably have a large jar of soothing ointment to hand, and in any case she was only being encouraging!
I couldn't help but think if he afflicted so grievously at this stage of the game, what was he going to be like in Blackpool. Perhaps we shall never know and I for one would rather not. Somewhere around Daisy Hill I noticed two ladies stopped on the pavement, looking very flustered and with that particular body language that says 'Why did I do this?' I pulled over to see if I could be of help, and found that one of them had a flat tyre. Her friend carried on to let someone know that she was OK and being sorted out, and I got on with changing the tube as quickly as I could. Luckily for her, I had the tyre levers and tools with me, and fifteen minutes later she was on her way. She asked me for my name and address, to allow her to send a Thank You card, and although I assured her it wasn't necessary, she took it and went on her way. A couple of days after the ride received a really nice Thank You card and message with a gift token inside. Very unexpected but much appreciated, and it shows there are some decent people out there after all.
I was number 3604 this year, and I believe there were around 4,500 riders, slightly less than last year, but it didn't seem like it on the road. Haigh Hall loomed up at 9.00 am, with its infamous section of cobbles at the entrance. Readers of previous reports will remember humorous quips about damage to the nether regions resulting from this, and all I can say is that you ride quickly over them at your peril! I stopped for a toilet and refreshment break and felt much better for some food and fluid. At this point I'm risking provoking the fury of those who take umbrage at a man complimenting a woman on her appearance, but being adamantly politically incorrect I'll risk it.
A very attractive young lady with blond hair and black lycra was taking part, presumably with her boyfriend, and I only noticed her in passing........honestly officer! What was a bit concerning, was the fact that she wasn't wearing a helmet, and while it isn't compulsory, on a ride of sixty miles an awful lot can go wrong. I somehow think her blond locks, lovely though they were, wouldn't be much protection in a crash. If I can obscure my film star looks with a helmet I don't see why she couldn't! Anyway there's my little bit of controversial observation for this year.
Leaving at 9.25 we pressed on through Chorley and Leyland, heading towards Preston, where another break was in the offing. There's one section of the ride which can sap energy like no other, with the possible exception of the bit along Lytham Green, and it's the long straight section of dual carriageway leading into Preston Docks. Pulling up at a set of traffic lights just before the start of this section, I got talking to a middle aged couple who were doing the ride for the first time. I told him about the stretch of road and he felt it would be a good idea to 'go for it'. I counselled a bit of caution, since it's easy to wear yourself out and to feel like it's never going to end. Whether he took the advice or not, I don't know, but I adopted a steady, head down approach, which I've learned over the years at this point on the ride. I liken it to riding a mechanical bull, which I once did at a Western weekend many moons ago. I'd never done it before, and was given the tip of focusing on a spot between the horns at the back of the head so as to avoid going dizzy with the erratic motion. It worked and I stayed on for a remarkably long time before exiting spectacularly out of one side! In the same vein, I focused on the road just in front of the bike, and didn't think about how long the road was. It worked, and at 11.05 I got to Preston Docks where I had some more food and drink and took a selfie on my tablet's camera. As you'll see, it could be used as a screen saver to keep the kids away from the computer!
Leaving at around 11.25,I gritted my teeth(they should be worn down to stumps by now!) , and 'dug in' on the last section through some lovely countryside and little out of the way villages. This is the best section, I always think, and it's only a shame that there isn't time to stop and enjoy it more. Having been a chivalrous type in the matter of someone else's puncture, it didn't seem fair that I got one near Treales, just outside Kirkham, and it cost me ten minutes, but I suppose I may have been due one, since it's been a few years since I've been afflicted. Through Freckleton and on to Warton, where the last and testing bit of the ride looms up in the form of the road running through Lytham St.Annes. We'd just come up a hill and got to some traffic lights, where two young ladies were saying 'Well that's the worst bit over with.' I didn't have the heart to tell them about the next bit.......well actually I did in the interests of honesty and preparing them for the worst!
I think they took it very well, but I beat a hasty retreat before I outstayed my welcome! Sure enough, the onshore wind was playing it's tricks again, and while not actually gale force, it was strong enough, and I don't mind admitting that I got off and pushed for a few hundred yards at one point. Well I was doing 7mph on the bike and around 5mph on foot, and it gave my nether regions a rest, so it was perfectly legitimate tactics! Head down and trying to forget the pain, I pressed on until finally we got to the end of this section, and the promenade road was in sight. It's amazing how the thought of the finish line can add strength to tired legs, and I fairly sprinted (let me have my delusions please!), across the finish line. I tried to catch the eye of Rick, in his commentary box to the left of the line, but he was facing the other way, so I didn't get a mention at the end, as I had done at the start at 6.30am.
Collecting my bottle of water and energy bars ( nothing like freebies to gladden the heart!) ,I wheeled Old Faithful onto the grass, gathering my completion certificate from a rather bored looking young lad, who'd obviously been drafted in to make up the numbers. I felt like falling asleep on the grass for ten minutes, but since my mate Jon ,who lives in Blackpool, was meeting me, I had to forego this pleasure and give him a call to find out where he was. He'd missed my triumphal finish, although he was in the crowd nearby, and had forgotten to ask me what colour of Lycra I was wearing.
Speaking as a MAMIL,or Middle Aged Man in Lycra, I have to tell you that lycra is an essential item and not an excuse to show off my physique to all and sundry.......that's my story and I'm sticking to it!
We had a drink and a catch up ,then I caught the coach back at 3.30, reaching Manchester at 5.20. We were dropped off in a car park and waited for the lorry containing our bikes. As I've done for many years, I gave the driver a hand to off load the bikes and then set off back for the ride back to Bury. I'd like to say I felt like Action Man, but in truth I felt more like Barbie, and I have to admit that I was 'running on empty' to coin the phrase for most of the way. The fact that nearly every traffic light turned to red as I neared it was just a bit energy sapping, and I was pretty glad to get home at 7.00pm,where I fell into the armchair and treated myself to a coffee with a dash of Southern Comfort (purely for the iron content of course!).
In all, with the rides to and from Manchester, I covered a total of 90.8 miles, and after I'd rested a bit was very pleased with my little self's an added bonus, this year, we are running a 'Guess the Arrival in Blackpool Time' competition, and the prize is a superb wooden, self assembly owl figure. Nigel will add a more detailed item on the competition, but the basic idea being that the person who guesses closest to the actual finish time wins the prize. Please have a go and help to raise a bit more money for the Charity.
In conclusion, I would like to thank everyone who has supported me in previous years and of course all the people who will do so this year. I may have made the physical effort but you make a huge contribution to the work of Three Owls. Enjoy the article and with any luck I will back next year to attempt my 28th ride. As a positive footnote, I have given our local paper, The Bury Times, all the information and photos relating to the ride, and after speaking to one of their reporters today, have been told that a piece will probably appear next week. Hopefully this will not only further publicize the work of Three Owls but encourage others to have a go themselves and improve their fitness.

John Thorpe


Ed - The competition John has mentioned is an extra bit of fun for you all; You can either enter by post and make a £1 donation per guess by cheque/PO/stamps, or you can enter via the donate button, and leave your guess in the PayPal comments box.

Good Luck!



Date : July 17, 2016
THE 2016 MANCHESTER TO BLACKPOOL CHARITY BIKE RIDE
Hello dear supporters and I must first humbly apologise for the lateness of this article about the annual Manchester to Blackpool Bike Ride. Time seems to have run away from me this year, and the date looms for the event, which is on Sunday the 10th of July. I'm girding my loins, what's left of them and trusting that my ageing metal steed will do the job asked of her. There's probably more concern about the ageing rider than the steed to be honest, but we'll give it our best shot! This will be my 27th consecutive event, the vast majority of which have been in aid of Three Owls, and I hope that you will see fit to sponsor me again this year. Your valuable support in previous years has been astounding, and continues to amaze both Nigel and myself.

The weather is of course a totally unpredictable element.

In the equation, as is the state of the road (not an inconsiderable hazard nowadays with potholes resembling a warthog burrow in places!) Three Owls continues to do amazing work, both in terms of referrals to hospital facilities and the work on the Reserves, and we should all feel proud of what we've accomplished. With your help we can do so much more, and I hope you will support me on the 10th.
(For once no 'support' jokes!)

John Thorpe.

Date : July 1, 2016
New Trees in THREE OWLS WOOD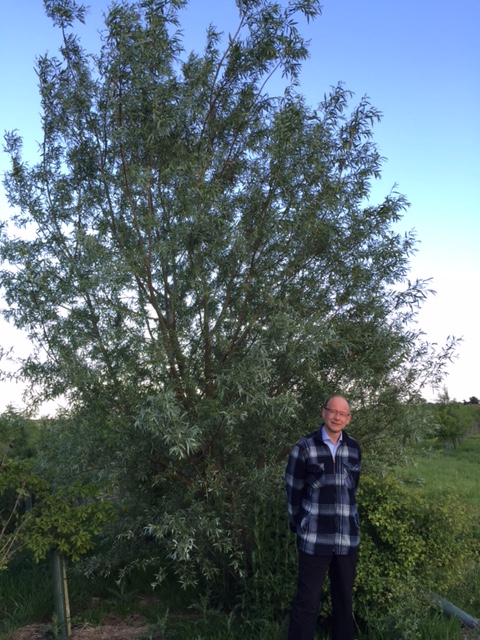 I just cannot believe how big some of the new trees are now only four years ago this one was in a pot at my daughters wedding. Its a white willow.
It feels like a proper wood now, the hare family are still there as are the hedgehogs and a barn owl. The swallows have just completed a mud nest in the stables too.
cheers David
Date : June 23, 2016
Meadow Reserve Moth survey continues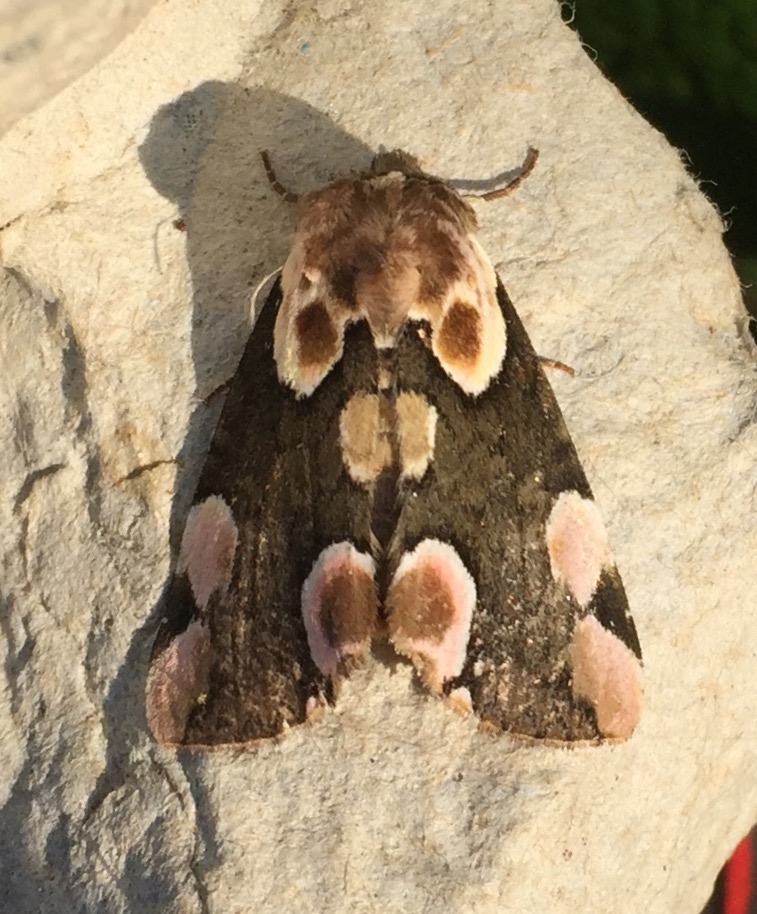 We are now up to well over 140 species at the Meadow Reserve This is The Peach Blossom moth - a real beauty! feeds on bramble leaves This is the first I have ever seen.
David
Date : June 23, 2016
Yes, there's something else to vote for!
I know you're all fed up with the Referendum vote (so I keep being told!), but here's something where you can REALLY make a difference;

Our colleagues at Knoxwood Wildlife Rescue Trust who look after our resident birds and now incorporate our own bird hospital facilities with their own - alongside our Watermeadow and Field reserves - have been shortlisted for Sainsbury's Carlisle Charity of the Year. This could mean a wonderful gift of around £15,000; which as you will all know is money which would be very gratefully put to excellent use.

Please click HERE to go to their website to cast your vote - Every Click Counts!

Thank you for your support.

Nigel
Date : June 15, 2016
Babies, babies everywhere!
Well, we certainly are in the middle of a very busy baby bird season; my evenings and weekends are always jam-packed with assisting sanctuaries, vets, and members of the public with assistance and advice as to all manners of baby bird queries and identifications.

It has been notable this year, the large quantity of young crows and jackdaws which are being admitted for further help; due to the very mild weather, many parents have reared all six chicks to point of fledging, however the 5th and 6th bird are always weaker - the runt of the family - and as such often get into trouble once out of the nest due to deficiencies or malformed limbs.
Once again this often takes the form of dry, brittle and white feathers where they should be a glossy black, and even some birds being completely bald, or just bald heads. As ever, given the correct care and attention, the majority of these birds can be nursed back to full health, but this takes time, money and a lot of loving.

I was over at Three Owls Wood last weekend, and was thrilled to see just how big the trees are now there, I will ask David to put some up-to-date photos on here to show you all. There were a number of swallows busy feeding young by the stables, a huge buzzard in the field alongside, numerous pheasants strolling around, a heron quietly fishing in the pond, and a pair of shelduck which I thought had such amazingly bright plumage they could have been freshly 'painted'.

Nigel
Date : June 5, 2016
Lovely surprise to start the summer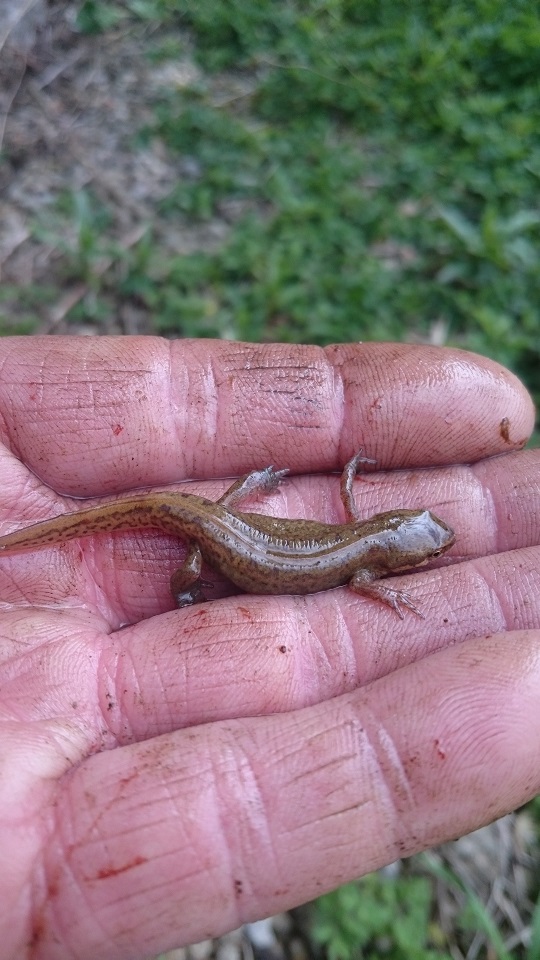 We had a minor maintenance day with six of our trusty volunteers on the Home Reserve at Rochdale today; and were cleaning out one of the ponds used by the migratory and resident birds.

With the wonderful song of the swallows all around - quite how they have such energy having flown all the way from North Africa is beyond me! They really are the acrobats of the skies.

The whole reserve is alive with birds just now, with the flies now plentiful, we have cut right back on the seed feeding stations. Many blackbirds and thrushes have young in the nests, and several more species such as the sparrows, jackdaws, and moorhen and mallards are busy building their nests or incubating their eggs

It was while clearing the drain we came across a trio of newts; all in great health and I managed to get a photo of one before all three were returned back to the water. These are the Common Newt, and I was pleased to see the ponds so well-stocked with wildlife.

We have been given a lot of nest-boxes in kit form following my earlier appeal, and John Thorpe has offered to build them up for us. We will get these installed throughout the reserve over the next week or so, in order they can be in use for this year and give our tit / finch / robin families a helping hand.

Nigel
Date : May 8, 2016
Springing into May!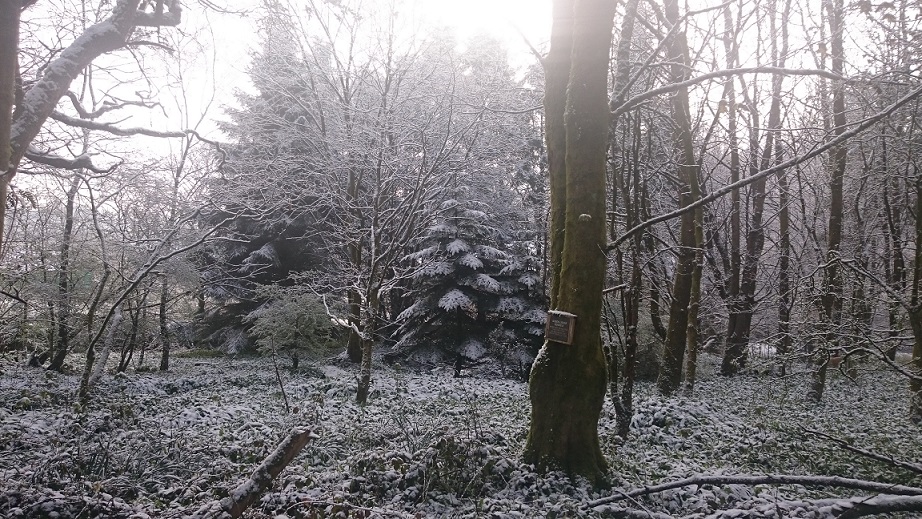 Well, Mother Nature is finally springing into life and so far the Bank Holiday Weekend has been abuzz with requests for help countrywide with baby bird issues.
The vast majority of calls have been either cat attack victims of mainly blackbirds; who for their first 4-5 days out of the nest are flightless, and greatly at risk from predatory cats and magpies.
As ever, if you find a bird which has been attacked, put it in a box and keep it warm. If you don't have an airing cupboard (ideal as they are a constant warm temperature), then a hot water bottle / gel pack wrapped in a towel and placed either underneath the bird or underneath the box will help settle it down.

If a young bird, it may gape for food, and you can give it some cooked scrambled egg (no salt) with either some blunt tweezers or the handle of a teaspoon. The bird will need a couple of mouthfuls every 30-60 minutes, from dawn to dusk.

Aim to get it to your nearest wildlife rescue as soon as possible (follow the links on this website to locate your nearest), but if it's late in the day or an evening, and only shocked rather than injured, it may fare better to stay with you overnight then travel in the morning.

So far we have the usual blackbird/thrush babies around, but also numerous enquiries about baby owls, baby herons, and a growing number of ducklings.

I understand the warmer weather is just around the corner, but as the photo on this report shows, the past final week in April has looked anything but spring-like; the picture shows the bottom half of the Home Reserve looking towards the heron nesting fir trees. Thankfully the ground was not hard frozen, and on both of the snowy days, the majority of the snow had cleared by lunchtime.

Nigel
Date : May 1, 2016
Heron nests disappearing from view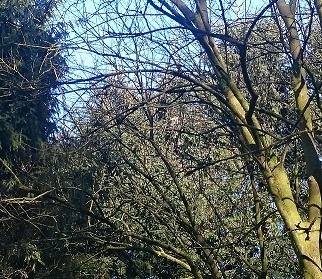 A larger than usual number of enquiries from people this year wanting to view the baby herons in their nests. However, access to view from the reserve itself is very limited due to other trees and the fact that the nests are so high.

I have tried to get a close-up, but will try again when the youngsters are standing up and I have a better chance.
Previous years viewings have been quite good from the adjacent recreation ground where the land is higher, but this year the new position of the nests has made things more awkward.

In the picture shown, the father bird is in the centre of the picture.

Nigel
Date : April 17, 2016
Everlasting Daffodils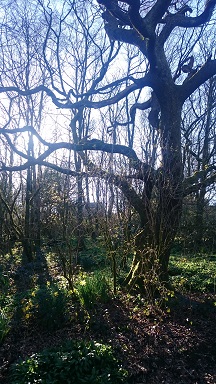 Well, the daffs were out early this year on the Home Reserve, and I have been amazed at how resilient they have been. Often knocked down with the wet weather, they just bounce back up once things improve, and really do brighten up the Reserve.

Now, with new growth on the woodland floor and birds scurrying around for nesting materials, it really feels like Spring is just around the corner, and this view seemed too good to miss as I walked around the reserve after work this evening.

Nigel
Date : March 31, 2016
A crunchy day at Three Owls Wood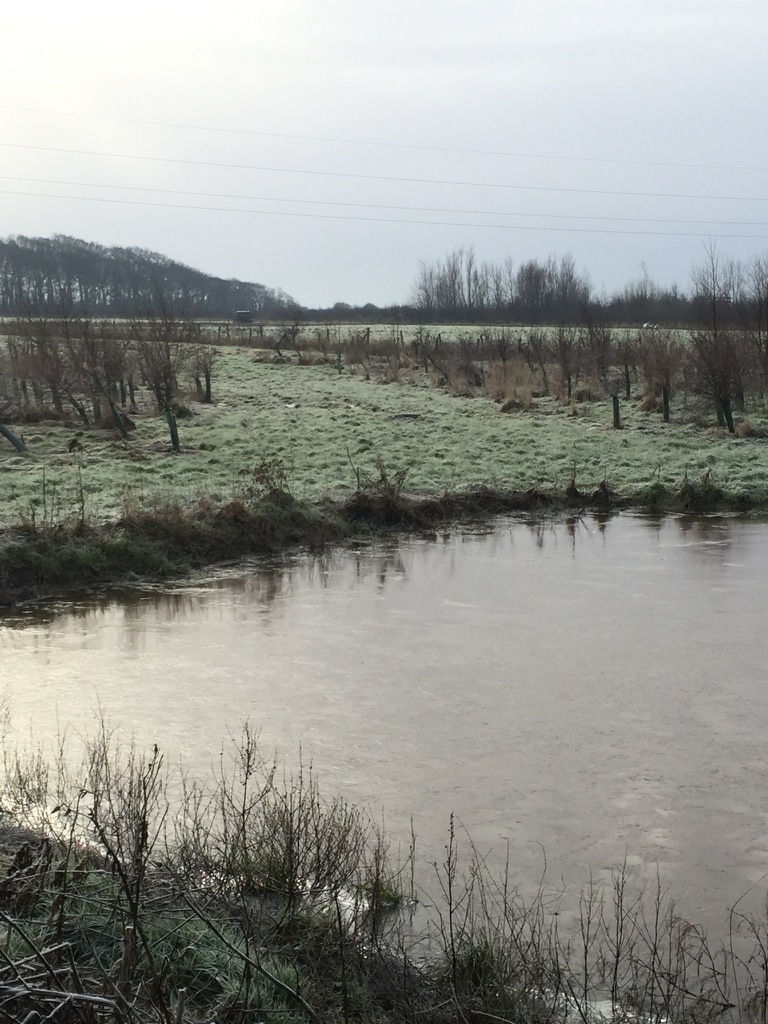 A very frosty day was endured recently at Three Owls Wood in Tarleton, however there are signs that the wood is starting to wake up from its winter sleep, and soon we will be back to the mowing again.

The trees are now well established and there is no need to mow between each tree as in previous years, as their own growth will keep the grass in check. We do however need to keep the pathways and rides clear, so monthly mows will be on the cards soon for David and myself.

Nigel
Date : March 26, 2016
Just 48 hours later.....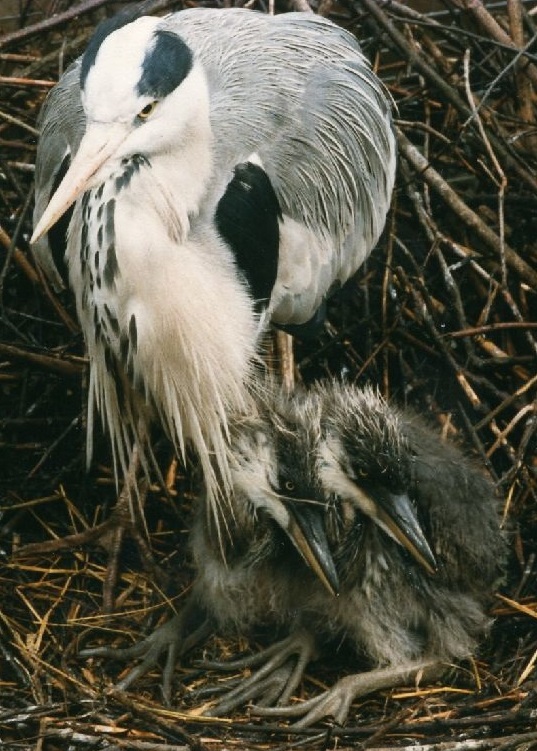 ...and the next heron chick arrives

These parent birds are new to the heronry, and so are quite flighty, so to avoid disturbing them further, I have used one of our library pictures to show you a picture of mother heron and her two babies.

There may be up to five chicks in total - dependent on how plentiful the food supply is. As a rule we do not put any food out for the herons, unless the winter is particularly severe and the local reservoirs and lakes freeze over.

The majority of the herons diet is fish and frogs, but they will make a meal of rats and mice/voles, and even birds up to the size of a coot.

Nigel
Date : March 21, 2016
The early bird .....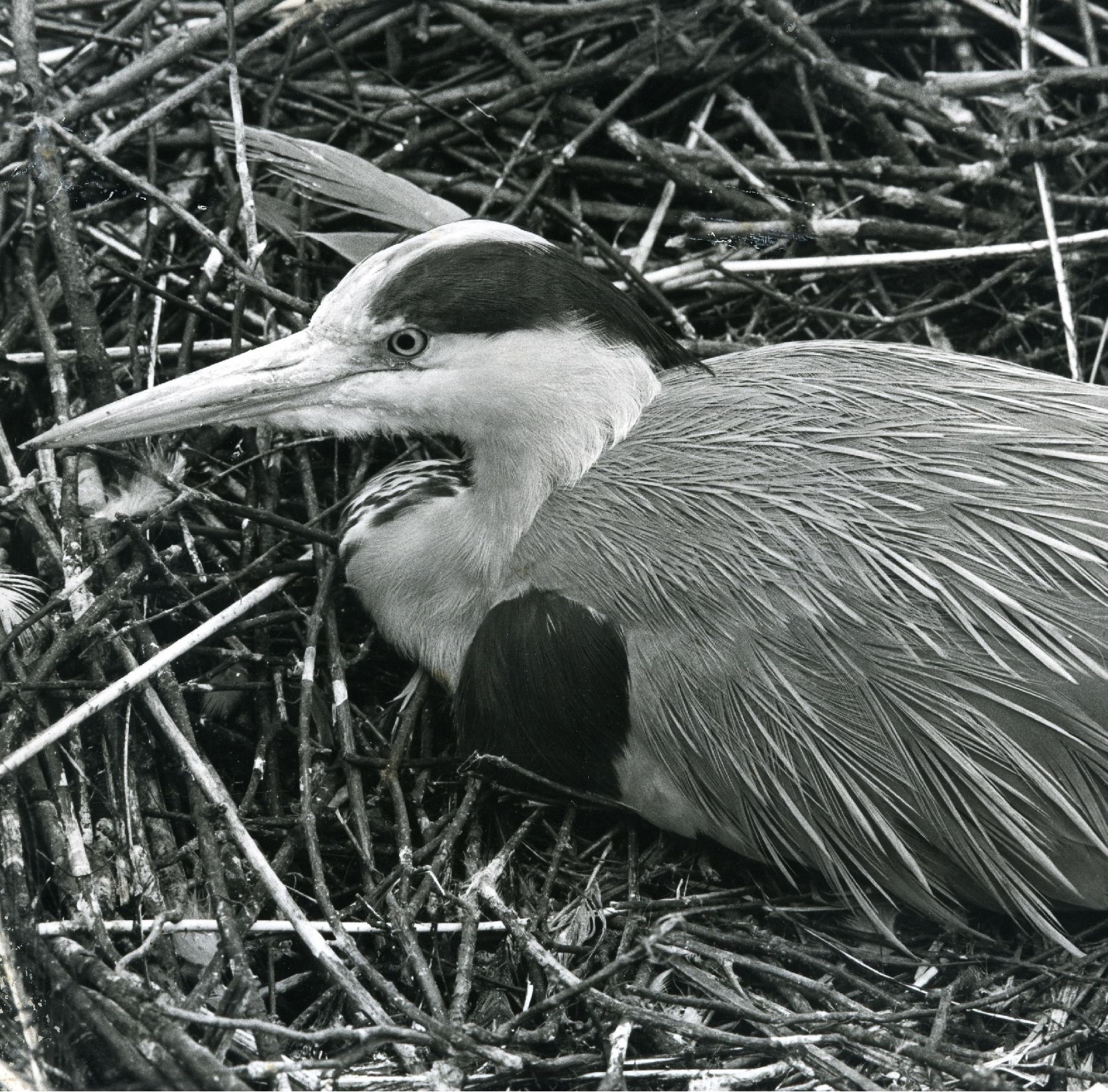 ...usually catches the worm, but these birds have been busy fishing in the ponds.

All those fish and frogs must have paid off, as earlier today I heard the unmistakable clack,clack,clack of a baby heron in the treetops. This is incredibly early, as I wasn't expecting them for at least another 7 days.

The picture shows dad heron sat night on the nest; I'll get another picture when we have some siblings.

Nigel
Date : March 19, 2016
Breakfast!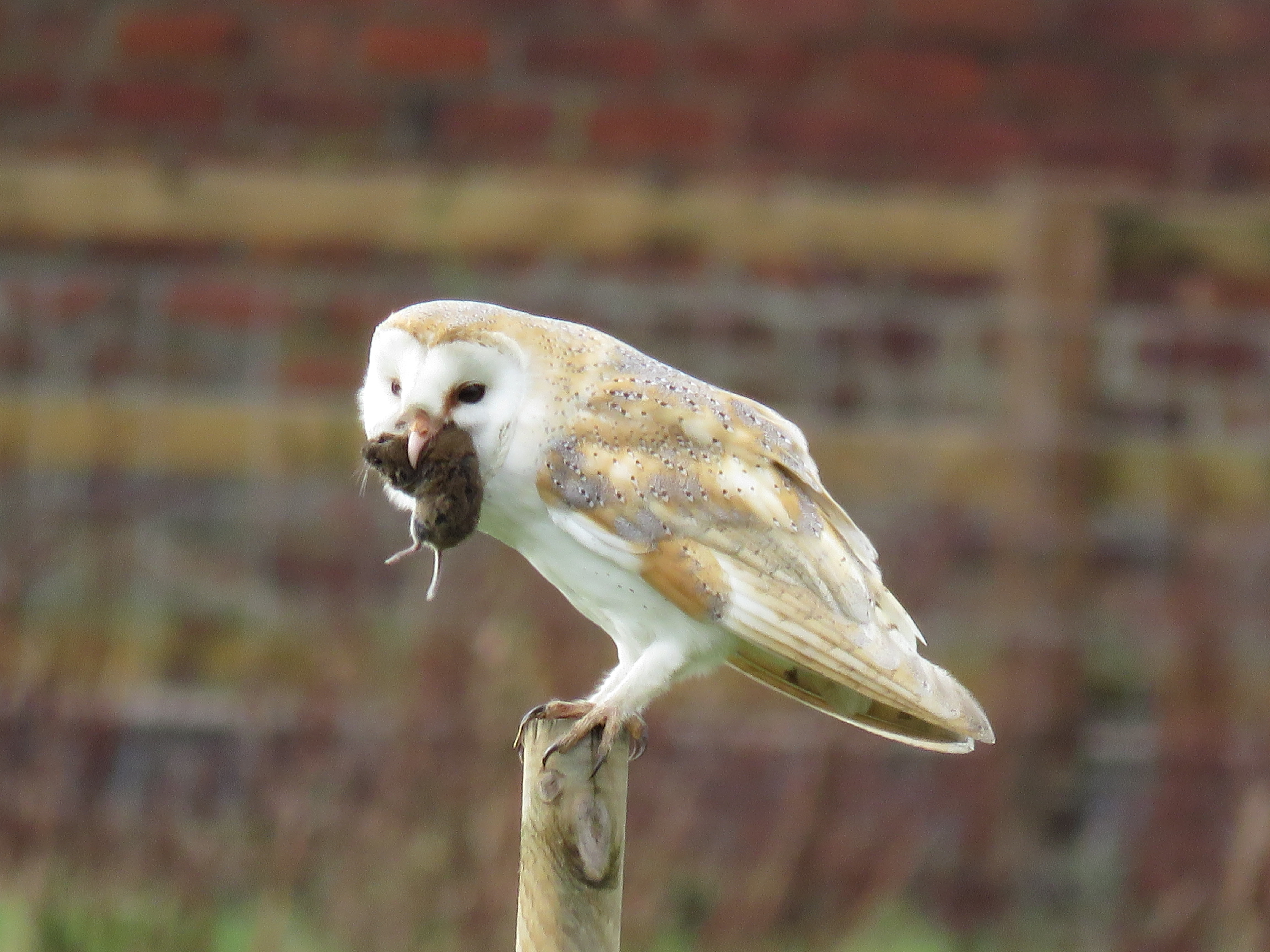 Our Barn owl pair are seen on the meadow reserve most days now .I have put a couple of 'resting posts' in for them-which they use a lot. I watched this owl sitting on the post listening intently before just jumping down on the hapless vole. just so chuffed with this photo !!
Cheers David
Date : March 4, 2016
What a lovely treat!
A small group of volunteers were doing some winter maintenance this weekend on the Home Reserve at Rochdale when a pair of Ravens flew overhead.

We heard them both quite a bit before we saw them - alas way too quick for my camera - although I have to admit I was somewhat sceptical prior to actually seeing them, as we do have a pair of large carrion crows living in and around the reserve, who were former residents of Three Owls and can mimic a raven call very well indeed, having lived in an aviary alongside our resident ravens during their own rehabilitation.

However, these two were most definitely 'the real deal'; the beak shape alone is so very distinctive, and although they simply overflew rather than calling in, it was a special treat for us all.

Nigel
Date : February 21, 2016
Springing to life!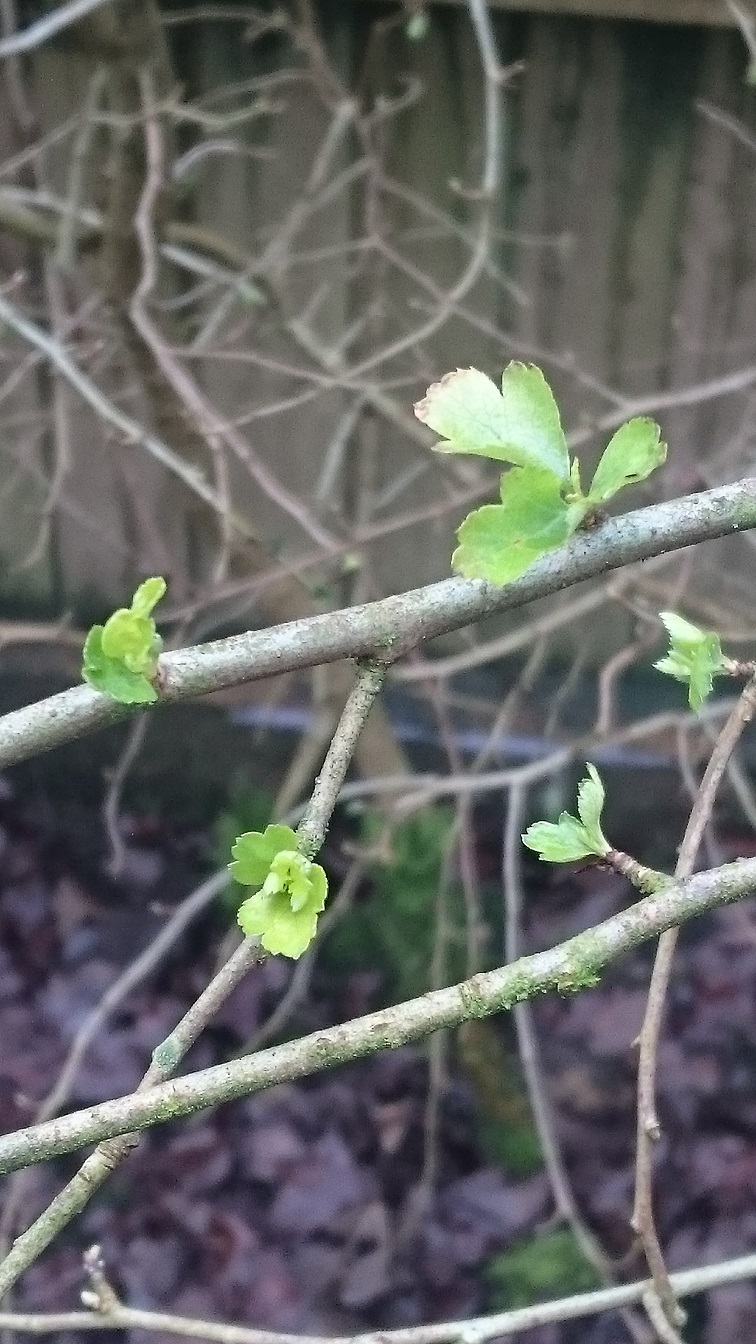 Nature seems a little undecided on the Home Reserve at present; We're only just into February and things really should be dormant. However with the mild wet weather we see the Crab Apple tree starting to blossom. and even the hawthorn hedging in the photo is starting to leaf-up.

Of the five pairs of herons, only the one pair is nesting in earnest, and if I get chance to look over to the Reserve at lunchtime, the female is often fishing on the ponds, with the male tucked up tight on the nest.

Judging by the amount of foods being consumed at the feeding stations, more severe weather is on the way, as I recall the wood pigeons in particular will feed to excess in advance of poor weather and simply not venture out when the weather is very bad. Pigeons have a very slow digestion-rate, and so if well-fed, they can go 2-3 days without food and not suffer undue hardship. Whereas the smaller insect eaters such as robins and wrens, tits and finches need to eat every single day to survive - no matter what the weather.

Nigel
Date : February 7, 2016
Big Garden Birdwatch results!
Well, it wasn't really the best of weekends weather-wise for bird watching, and we didn't spot as many of our usual friends as there would have been on a sunnier day.

However, in our 'magic hour of watching' we did manage 9 wood pigeons, 5 robins, 3 great tits, 2 nuthatches, and a lonesome blackbird. Of the corvids we had 4 magpies, 2 carrion crows, and a single jackdaw. There were some finches too, but they didn't come close enough for clear identification.

We all hope you managed to complete your own surveys, and haven't succumbed to the nasty cold bug going around from getting drenched on the day.

I'll be interested to hear later in the year of the results nationally from this bird count via the RSPB. Let us hope that the bird population has not been too badly hit by the recent very wet weather.

Nigel
Date : February 6, 2016
Big Garden Birdwatch this weekend!
Don't forget to join in the RSPB's Big Garden Birdwatch on either Saturday or Sunday this weekend!

These annual surveys give us a snapshot as to how the wild birds are coping in the wild and if different species are increasing / maintaining / diminishing in number.

I'll let you all know how I fared in our survey on the Home Reserve tomorrow.

Nigel
Date : January 30, 2016
Nesting begins for 2016 at the Home Reserve
Well, obviously one pair of the herons read our website news too - they have this week started nesting preparations, and new sticks are now being brought in by the male, and presented to the female to see if they meet the required standard!

There has been much raucous calling and displaying too, as the birds have re-affirmed their bonding for this years breeding season.

Interestingly, this nest is NOT in the highest treetop as in past years, but lower down the tree, so I expect they have anticipated some further stormy weather will be with us soon this year. We will keep you updated.

The first of the snowdrops are now in flower on this reserve, and there as signs of new green growth surging forth on the woodland floor.

Nigel
Date : January 24, 2016
Barn Owl on a snowy morning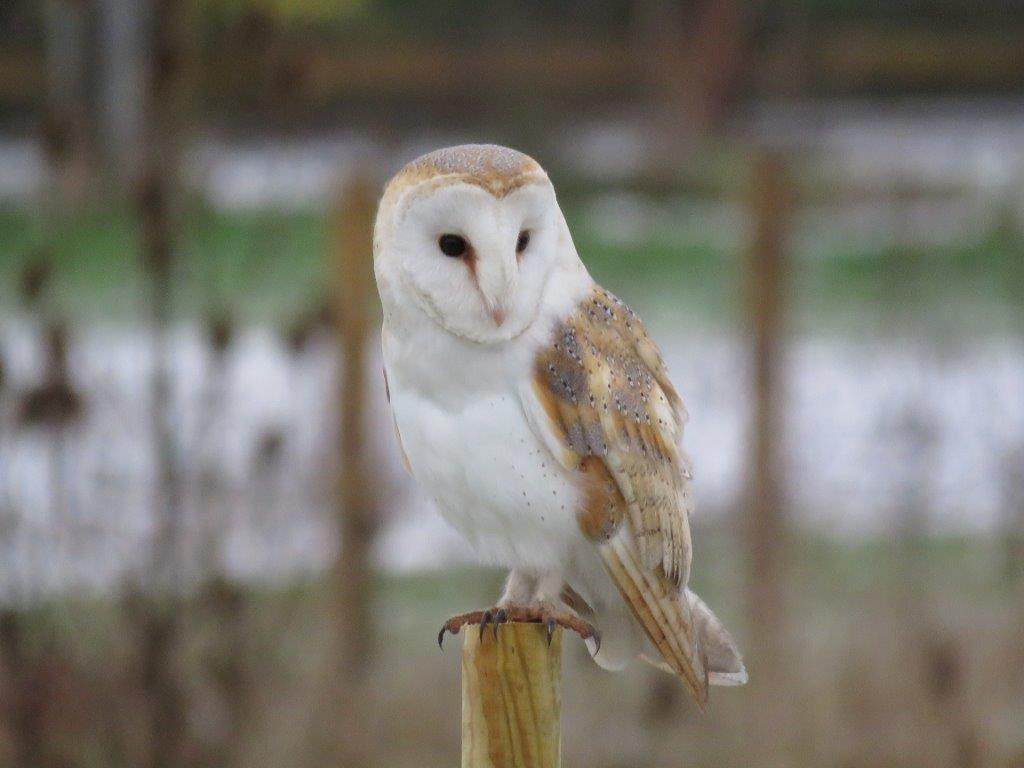 I was so very excited to capture this Barn Owl on the Meadow Reserve today.
I put a resting post just outside the hide -and it worked Hurrah!!!!
a very excited David
Date : January 17, 2016
There's a chill in the air - and a hint of Spring!
Well, the rain has at last stopped - for now, and we have a few crispy cold days of weather to come. This is good news for the birds, as the cold weather will kill off a lot of infections currently doing the rounds.
Please do keep an eye out for birds with canker - it IS fully curable in all but the very severe of cases, and is a yellowish-white growth that forms in the crop and grows up the throat, eventually stopping the bird being able to close its beak. It is often caused by dirty bird feeders/water dishes where food has gone mouldy and birds with the illness can pass it on at water dishes. Hence make sure you clean those feeders weekly with hot soapy water, and clean the water dishes out too.

The birds need your extra support now as bird baths will be frozen - and they need drinking water to survive. As ever, only use clean water and NEVER put any form of antifreeze in it, as this is toxic to all birds and animals.

With the mild start to winter there are many bulbs awake throughout the reserves, and even a few flowers. Hopefully the colder weather will simply put a delay on these and not let the frosts kill them off completely.

The herons continue to fish in the ponds at Rochdale, and the other day I was watching a female chasing off male from 'her' pond! As the female was so prominent with her bright pink beak, the herons too think that the breeding season - and Spring - is not too far away. However, I have seen no sign of nestbuilding, so knowing their excellent weather-forecasting skills, feel that some more severe weather may yet be on the way. It is after all, only mid-January, but in a good year would be collecting twigs by now to top up their nests this week of January.

Nigel
Date : January 15, 2016
Happy New Year !!!
Due to flood damage the Home Reserve currently has no Internet access or landline due to a line fault which is under repair. Whilst there has been significant flooding in Rochdale over the festive break, with the exception of the phone-line, we seem to have escaped so far with little damage.
We will endeavour to answer email enquiries via the Helpline in the interim, and the engineers hope to have the phone-line working again at some point next week. This sent as a text from Nigel.

As I write this a barn owl is quartering the Meadow Reserve He has been there five times this week.
As I watch I always hope to see him catch a vole and then feel guilty about it !!
Happy New Year from me too folks!!
David

Date : January 1, 2016
A very Merry Christmas to all our supporters
Hoping you have all had a good Christmas so far, the wrapping paper at home is now tidied away, and I'm just back from a walk round the Home Reserve at Rochdale, where I was putting out some treats for the birds and animals living within.

Considering we're only approaching the end of December, many parts of the Reserve seem to think we are much further on due to the mild weather, and there are buds on some of the bushes, new growth on the woodland floor, and even the grass is growing again in the open parts of the Reserve.
The herons have been busy fishing in the ponds lately - but always at a distance to prevent a good photograph! They are very good weather forecasters - so I will be interested to see both when and where in the trees they decide to nest this year. (Treetops usually means a calm year, lower means a stormy year. January nesting means a normal Spring with chicks due at Easter, later can mean a bad February is on the way........we will wait and see.

We have a few self-seeded or elderly trees which have died off due to the much risen water table from all the rain we have had in the last few months. One of these has come down, and will be added onto the reserve maintenance programme which is undertaken during the winter period. We try and leave fallen/dead trees where they are if possible, as they provide a rich source of food and shelter for the birds and animals on the reserve; however some of these damaged/fallen trees are now blocking the pathways, so will need to be stacked elsewhere.

A huge Thank You to everyone who has sent donations in with their cards this year - we will ensure that every penny is put to good use in our good work with the birds.

Hoping you all enjoy Christmas, and have a Happy New Year.

Nigel
Date : December 25, 2015
New Three Owls Pond Full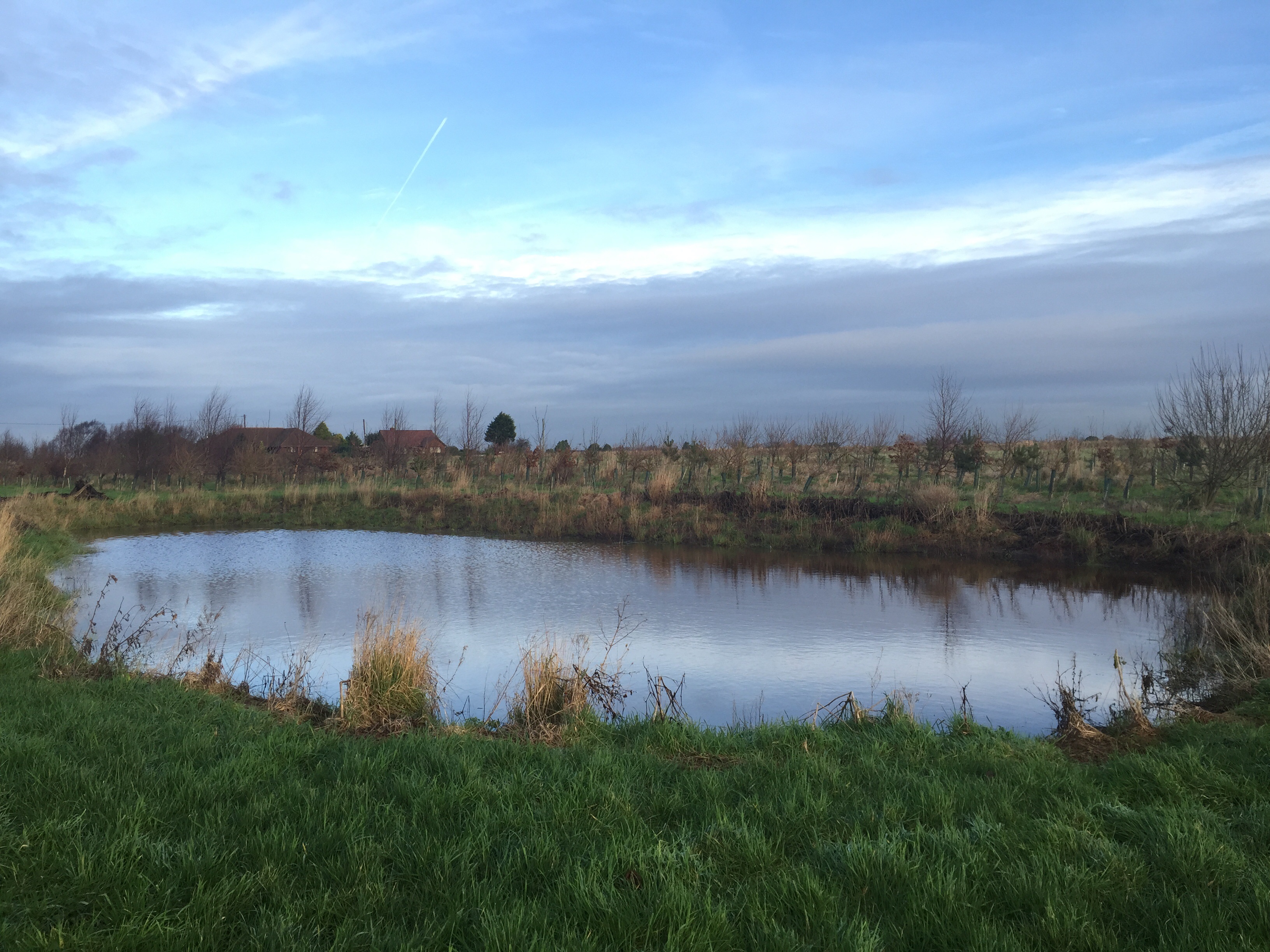 Just one year on and our new pond looks great. The fact it's so full will surprise very few of you! But the fact the scarred earth round it looks so green and settled surprises me
Date : December 19, 2015
Reserves coping with the very wet weather.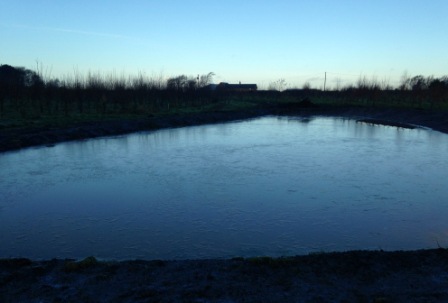 We have had a number of inquiries over the past couple of weeks as to how are the reserves coping with the absolutely torrential rain we have encountered of late.

Actually they are coping very well ;
The Home Reserve at Rochdale IS boggy in parts, but as most of it is on a slope, it does drain off fairly quickly once the rain does stop - certainly when I attended it earlier today, each pond within was absolutely brimming with water.
Both the Three Owls Wood at Tarleton, and the Meadow Reserve at Banks have drainage ditches alongside, and so these reserves cope well with what Mother Nature throws their way.

The Field Reserve at Wigton has a fairly steep slope over half its area, so that part of it drains well. The Watermeadow Reserve also at Wigton is "nice and boggy" so Emma at Knoxwood informs me, and she also reports that the last third of the new Field Reserve hedge arrived last week.
We have all seen the devastating floods at Cumbria in the news recently, and thankfully the birds and animals there have all been safe from these. However, it has prevented the staff being able to get in on occasion, and we all wish them well in coping with their temporary isolation due to the floods. Thankfully - as with any well-run sanctuary - they have food (and tea bags!) aplenty and will 'weather the storm'.

Nigel
Date : December 12, 2015
Good to be back !!
So sorry we were not able to keep you all upto date because of the rather sad hackers attack;now sorted
While we were off line much reserve activity Almost daily barn owl hunting seen at the Meadow Reserve just around dawn Those field voles still under daily attack! Today we had both the Owl and the pussy cat - a matching white cat as it happens !!
Cheers David

Date : December 2, 2015
News updates
Our sincere apologies to all our faithful supporters for the lack of news articles since September; the website suffered a prolonged multi-national attack which destroyed part of the site.

Our Webmaster is working hard to rebuild everything behind the scenes and we will get the news restored as soon as possible.

Many thanks to everyone for their ongoing support during this difficult and costly time. You can always catch up on previous years' news items by clicking on the Newsletter link at the bottom of every page.

Nigel
Date : November 17, 2015
New
Date :
Notice: Undefined offset: 1 in E:\Domains\t\threeowls.co.uk-1090598464\user\htdocs\news_all.php on line 135

Notice: Undefined offset: 2 in E:\Domains\t\threeowls.co.uk-1090598464\user\htdocs\news_all.php on line 135

Warning: mktime() expects parameter 6 to be long, string given in E:\Domains\t\threeowls.co.uk-1090598464\user\htdocs\news_all.php on line 135
January 1, 1970
New
Date :
Notice: Undefined offset: 1 in E:\Domains\t\threeowls.co.uk-1090598464\user\htdocs\news_all.php on line 135

Notice: Undefined offset: 2 in E:\Domains\t\threeowls.co.uk-1090598464\user\htdocs\news_all.php on line 135

Warning: mktime() expects parameter 6 to be long, string given in E:\Domains\t\threeowls.co.uk-1090598464\user\htdocs\news_all.php on line 135
January 1, 1970